Tuesday/Wednesday blog
There's really not much that can be written which hasn't already been written or said by all the experts and pundits and propagandists. But I'll briefly make two points which I feel haven't been adequately covered by the mainstream media:
1. A cornered mad dog will attack
In my blog dated 11 February, I tried to explain the arrogance and stupidity of NATO moving ever further eastwards towards Russia's borders by inviting former members of the Warsaw Pact to become NATO members: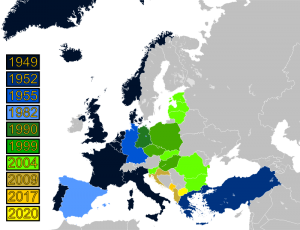 The latest two countries to be invited to join NATO were Ukraine and Georgia – both of which have long borders with Russia. This was a step too far for Russia which would never allow NATO forces to be stationed directly on its borders. And when you corner a mad dog, eventually it will attack you. That's what has just happened. I am not excusing Putin's action. I'm merely trying to highlight how the West's strategic blunders have given rise to the situation we are now in.
2. Is Germany paying for Putin's war?
Secondly, in my weekend blog, I questioned how real the supposedly "massive" and "devastating" sanctions being put on Russia actually were. From the little I understand, record amounts of Russian gas are flowing through Russian pipelines through the Ukraine to Germany and all the banks involved with the financing and payment for Germany's Russian gas are exempt from any Western sanctions.
"There are still channels by which Germany's gas bills can be paid despite the exclusion of Russia from the main global payments system SWIFT" a German economy ministry spokesperson said on Monday.
In a sense, Germany's payments for Russian gas are helping Putin finance his war.
Where do we go from here?
As Putin's Blitzkrieg shows a lot of Krieg but not much Blitz, the question is what happens next.
The ideal scenario is the Russian military chiefs realise the disaster into which Putin is leading their country and depose him dragging him off to jail or the madhouse.
The most likely scenario, unfortunately, is that Putin's frustration over the Russian army's slow progress leads to him throwing ever more troops and ever more barbaric weapons into crushing Ukrainian resistance. This would probably also include sending tens of thousands of soldiers from Putin's puppet states like Belarus and Chechnya. The result would be an horrific bloodbath.
But as I've nothing vaguely intelligent to write, here's the magnificent Neil Oliver: