Wednesday – Friday blog
Mutual backslapping for the globalist elites?
Here's a nice photo: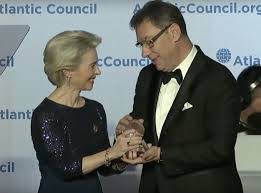 It features the EU's always immaculately-coiffed great leader Ursula von der Leyen (affectionately known by some of her many admirers as "Ursula Fond of Lying") and Albert Bourla, Chief Executive Officer of Pfizer. The photo was taken (I understand) on 10 November 2021 at an event run by an organisation called The Atlantic Council. The Atlantic Council is an American think tank in the field of international affairs, favoring Atlanticism, founded in 1961.
Fond of Lying is pictured handing an Atlantic Council Distinguished Leadership Award to Bourla. Fond of Lying also got a Distinguished Leadership Award at the event. The Distinguished Leadership Awards are given to "exceptional individuals meeting today's extraordinary challenges".
Here's another photo of the pair at the event, this time getting rather closer than normal social distancing rules would recommend: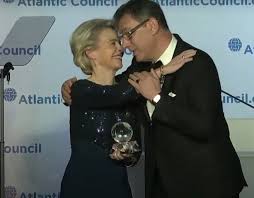 Moreover I don't see any of the ghastly face-nappies the rest of us have to wear at indoor gatherings. Still, perhaps they've both recently had the Pfizer 'miracle' vaccine which gives limited protection to us for a few months and massive profits to Pfizer for many years to come.
Lots to discuss?
I imagine these two would have had lots of things to discuss. For example, they could talk about why the EU was buying over 1.8 billion Pfizer 'miracle' (possibly heart-damaging) vaccines at $20 a dose rather than the (possibly less dangerous) much cheaper AstraZeneca vaccine at about $4 a dose.
Ursula's history of awarding contracts has previously been somewhat controversial – especially how €109m was handed to management consultants when Ursula was Germany's Defence Minister:
https://www.politico.eu/article/the-scandal-hanging-over-ursula-von-der-leyen/
The fragrant Ursula has told the German parliament there had been "mistakes" in how external consultants were hired and said "this never should have happened."
Perhaps, Ursula and Albert might also have discussed whether 'miracle' vaccines like Pfizer's and annual boosters should be made mandatory for the EU's 447 million citizens?
I can't believe it's not 'Ivermectin'
Another issue the two might have discussed could have been what medication to use in the EU for people infected with the lab-leaked Chinese Wuhan plague. The EU could encourage the use of the cheap, out-of-patent protease inhibitor Ivermectin. Or it could go for the new, expensive, patented protease inhibitors being developed by pharmaceutical giants like Pfizer and Merck.
I obviously do not have any medical background to be able to judge whether the cheap, out-of-patent Ivermectin is as effective as the new, expensive, patented protease inhibitors. But there appear to have been successful trials of Ivermectin in countries like India, Spain, Brazil, Peru and others which possibly can't afford the new expensive protease inhibitors:
https://www.zerohedge.com/covid-19/hospitalizations-mortality-cut-half-after-brazilian-city-offered-ivermectin-everyone-pre
Ivermectin has successfully been used for decades as an anti-parasitic with more than 3 billion doses given to humans. Yet whenever mainstream media supposed 'journalists' mention Ivermectin, they seem to be trying to denigrate it by calling it a "horse dewormer". This suggests there is a deliberate PR campaign being run by the big pharma companies to undermine the cheap, out-of-patent Ivermectin and replace its use with their new, hideously expensive and massively profitable rather similar protease inhibitors.
Them and us?
Yes, Ursula and Albert certainly have a lot to be pleased about as the photos show. In case you're wondering why Ursula and Albert are laughing – it's probably because they're laughing at us.
Meanwhile we huddle in our homes living impoverished lives and being threatened with vaccine mandates, vaccine passports, never-ending lockdowns, face-nappy-wearing, being fired if we don't get 3 or 4 or 5 or 6 vaccines and many more similar restrictions on our lives.
And this freedom-limiting, Big-Brother state is only going to get worse when similar restrictions are imposed on us by the self-satisfied, privileged, jet-setting, virtue-signalling, do-as-we-say-not-as-we-do global elites in order to supposedly protect us pig-ignorant, pleb garbage from supposed catastrophic anthropogenic climate change.
How have we allowed ourselves to be taken for such fools?