Sunday/Monday/Tuesday blog
In this blog, I'd like to suggest that Western governments are trapped in a seemingly endless cycle of vaccinating ever more groups of people ever more frequently, often unnecessarily, in order to prove that the vaccination strategy was the right one in the first place.
Let me tell you about 'AESIs'
I'll start with a link to this confidential report – its title is CUMULATIVE ANALYSIS OF POST AUTHORIZATION ADVERSE EVENT REPORTS OF PF-07302048 (BNT162B2) RECEIVED THROUGH 28-FEB-2021 and it details what are called 'AESIs' (Adverse Effects of Special Interest) in people who have received the Pfizer BioNtek mRNA vaccine
https://phmpt.org/wp-content/uploads/2021/11/5.3.6-postmarketing-experience.pdf
There is a summary in the report listing the main AESIs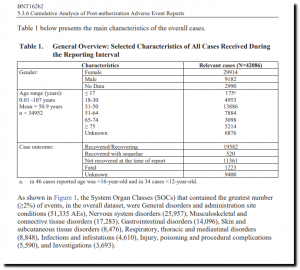 (as usual, left-click on image and then left-click again to see in glorious technicolour)
The main AESIs seem to be:
Administration site disorders 51,335
Nervous system disorders 25,957
Musculoskeletal and connective tissue disorders 17,283
Gastrointestinal disorders 14,096
Skin and subcutaneous tissue disorders 8,476
Respiratory and thoracic disorders 8,848
I found Table 7 in the report quite interesting as it lists the main cardiac problems some people have experienced post-vaccination. I have written several times about the apparent rise in heart problems and sudden deaths from heart problems in more than 100 young athletes.
From my brief skim of the document, I don't think the numbers of AESIs are put in context of how many millions of doses of the vaccination have been given. So this report on its own doesn't provide any conclusive picture of the frequency of these AESIs or the likelihood of adverse effects.
The not-so-merry-go-round?
There seem to be two main issues raised by the document:
Issue 1: Why have these results not been reported in the mainstream media?
The answer here seems obvious. There has been massive collusion between governments and the mainstream media about what information is reported. The aim has been to inspire as much fear as possible in the public about the Chinese plague in order to terrify us into willingly giving up our freedoms supposedly 'for our own good'.  Journalist Laura Dodsworth effectively describes the behaviour-control tactics used in her 2021 book A STATE OF FEAR How the UK government weaponised fear during the Covid-19 pandemic: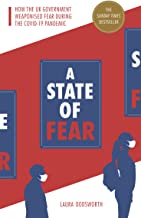 At the same time, the media have been encouraged to propagandise the benefits of the supposed 'miracle vaccines' and to lionise their developers. So, any reports of adverse effects have been deliberately downplayed to avoid giving fuel to those nervous about being injected with largely untested chemicals.
Issue 2: Given the number of AESIs, should so many groups of people risk vaccination?
I'm not quite sure which groups in the UK are now being encouraged to be vaccinated – but I have a feeling that children as young as five years old are also being bludgeoned into vaccination. But given the number of AESIs, there may be a point at which it's better for people to get the lab-leaked Chinese plague and build up natural immunity rather than take the increasingly ineffective vaccines. This is especially true if it turns out the omicron variant becomes the dominant variant and is no worse than a bad cold.
However, if government scientists and politicians were to suggest for example that only those over 35 should be vaccinated, that would open a huge can of worms. People would start asking awkward questions – questions like 'why only that age group?' and 'what are the dangers which make the vaccines unsuitable for younger people?' Then there would be those thinking things such as 'if these vaccines are dangerous for some people and I'm a healthy 37-year-old, maybe it would be better if I didn't get the vaccines?'
Allowing such doubts to spread would demolish our rulers' 'vaccination vaccination vaccination' strategy.
To vaccinate or not?
I do believe that for certain groups of people the vaccines are the right decision. But I'm becoming more than concerned by the move to vaccinate ever more sections of the population ever more times when for some groups vaccinations may not be in their best interests.
So, I'm suggesting that our governments are now trapped by their own propaganda – having bigged up the benefits of the 'miracle' vaccines and the supposed 'horrors' of the WuFlu for so long, they are now forced into an eternal cycle of Big-Brother-state vaccinations of ever more people ever more often otherwise their vaccinate vaccinate vaccinate strategy might be exposed to have been misguided for (some and even large?) sections of the population.