Thursday/Friday blog
Another one bites the dust and another one and another one..
This week yet another footballer collapsed during a game:
https://www.nationalworld.com/sport/what-happened-to-john-fleck-sheffield-united-footballer-collapses-on-pitch-during-reading-match-latest-news-3469305
In my blog of November 14th I featured a short video questioning why so many young healthy footballers have recently collapsed during games. Moreover, a reader commented a couple of days ago:
Purely anecdotal but I do not know of anyone in my locality who has died from covid. However, I am well acquainted with several people, three of them fit, active and healthy gym instructors in their 40's who have had serious health problems since feeling pressurised into having the jabs due to the nature of their work.
Another reader provided a link to a Vernon Coleman video about the same subject.
Oh, and here's a list of recent incidents: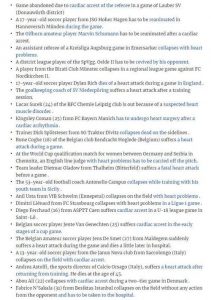 (as usual, left-click on image and then left click again to see clearly)
What do journalists actually do?
So I decided to do what I had naively thought journalists were meant to do. I did a few minutes investigation.
(I now, of course, realise that most journalists don't investigate anything anymore. Most only serve as cheerleaders for whatever cause our rulers want them to promote – the joys of lockdown to 'flatten the curve' and 'protect the NHS' which is 'the envy of the world', the wonders of our 'miracle' vaccines, supposed catastrophic climate change, the need to take the knee to BLM, all Brits being disgusting racists, Joe Biden being the greatest president the US has ever had, Trump being the incarnation of evil etc etc etc)
Who would trust anything from the WHO?
Anyway, my few minutes 'investigation' first took me to the website of the ludicrously misnamed World Health Organisation (WHO). You remember the WHO? They're the people who could have stopped the Wuhan lab-leaked plague by shutting down all travel from filthy, corrupt, disease-spreading China. But instead the WHO eagerly helped the corrupt, filthy Chinese spread the Wuhan plague abroad while the Chinese shut down all travel within China. But I think we all now know who controls the utterly corrupt WHO: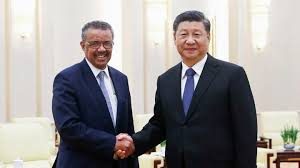 The sycophantic submission of the corrupt WHO to the orders of the equally corrupt Chinese Communist Party will probably end up killing over 20 million people around the world. I note in passing that not a single UK politician has dared question the WHO's competence or allegiance. Odd that?
Why have no 'journalists' noticed this?
During my 'investigation', here's something I found on the WHO website:
 The COVID-19 subcommittee of the WHO Global Advisory Committee on Vaccine Safety (GACVS) issued a statement regarding reports of myocarditis and pericarditis following COVID-19 mRNA vaccines (1). Cases of myocarditis and pericarditis, although rare, have occurred more often in younger men (adolescents or young adults) and after the second dose, typically within a few days after vaccination with the COVID-19 mRNA vaccines. As of June 2021, US VAERS surveillance data estimated crude reporting rates of 40.6 cases per million second doses among males and 4.2 cases per million among females aged 12-29 years (2). Current evidence suggests a likely causal association between myocarditis and the mRNA vaccines.
https://www.who.int/news/item/27-10-2021-gacvs-statement-myocarditis-pericarditis-covid-19-mrna-vaccines-updated
I appreciate that cases of myocarditis and pericarditis (inflammation of the heart muscles) are rare adverse effects of mRNA vaccines. But a rate of 40.6 cases per million second doses among males and 4.2 cases per million among females aged 12-29 years is a pretty worrying statistic. I mean these inflammations are 10 times more frequent in young males than in young females. Ten times is quite a lot.
Am I an investigative genius? (the answer is 'no')
That piece of 'investigation' took me less than 2 minutes. But it seems to have been well beyond the capabilities of most mainstream-media journalists.
Anyway, I decided to spend even more time (another 2 – 3 minutes) on my 'in-depth' investigation and came upon this:
Myocarditis is an inflammation of the heart muscle and is one of the cardiac conditions associated with sudden death in young athletes.1 When it occurs, myocarditis often has no symptoms early on. A young athlete may feel well enough to compete, unaware of the problem. After the diagnosis is made, however, it is necessary for them to significantly restrict their exercise in order to reduce complications, including the risk of sudden death.
The risk of exercise-induced sudden death is real even with mild cases of myocarditis. It is critical that young athletes restrict their athletic activities until given an "all clear" by their cardiologist
Should professional athletes risk v*ccin*tion?
I'm not an anti-vaxxer. I do believe the v*ccines lower the risk of serious complications from the Xi Pingpong Chinese plague.
But although myocarditis and pericarditis after v*ccin*tion are rare, it seems to me that they are proven. So, in my humble and ignorant opinion, all professional athletes should have their heart function monitored for a few weeks after v*ccin*tion. Of course, now that v*ccin*tions are becoming mandatory in some countries and v*cc*ne passports are being introduced in other countries, our rulers would never admit that there is a risk of heart inflammations as making this admission would also be admitting that our rulers are murdering some of their citizens.
Not 'good optics' as a PR person might say.
Here's the video of footballers collapsing in case you haven't seen it. You have to click on the "Watch on YouTube" to get access: