Thursday/Friday blog
Some readers may find this little story interesting as it illustrates how intolerant the supposedly tolerant, morally-superior, virtue-signalling progressives are and the oppressive stranglehold they have on free speech.
A difficult birth
In March 2021, I decided to write a new book – THERE IS NO CLIMATE CRISIS – questioning the ever more strident and influential Greta-worshipping, climate catastrophist cult. The first problem was that my literary agent told me to not waste my time as he said no UK publisher would dare publish the book as they would be too afraid of being attacked by the Twitter, Facebook and other social media lynch mobs.
But I went ahead and wrote the book anyway. I then forked out the £1,000 or so to produce and publish the book myself in June 2021.
THERE IS NO CLIMATE CRISIS takes all the main claims of the deranged climate catastrophists and demolishes each one. From supposedly melting ice caps, rising sea levels, more wildfires, more flooding, the '97% of scientists' claim and soon-to-be-extinct polar bears, THERE IS NO CLIMATE CRISIS shows that none of these are true.
Attention-seeking
It has been difficult to get any media attention for my book.
While some mainstream media will dare question the cost and the consequences of Britain trying to achieve net zero while China enthusiastically builds hundreds more coal-fired power stations, nobody in the media (not even the supposedly 'anti-woke' GB News) will dare ask whether human activities actually are responsible for changes in our climate in the first place.
As I was unable to get any printed, social or broadcast media to show any interest in my book, I had to take matters into my own hands yet again. To have a bit of fun, I commissioned a large poster advertising THERE IS NO CLIMATE CRISIS: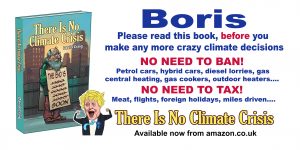 I then hired an advan (advertising van) to drive around the centre of Manchester for two days on 4th and 5th October during the Tory Party conference: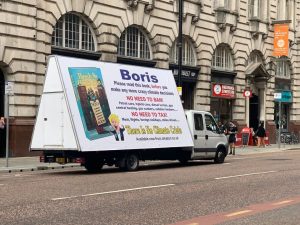 My intention was to use the same advan for two days during Boris's and Carrie's November Glasgow Cop26 bletherfest and then again for two days in London once Parliament returned in mid-November. But when I tried to book the same van to advertise THERE IS NO CLIMATE CRISIS, the advan company refused to take the booking as their driver in Manchester had been heckled, insulted, threatened and even assaulted by global warming fanatics.
Here is the message I received from the advan company:
Thank you for your email.
After due consideration, unfortunately we will not be able to fulfil future bookings for your book as the content of the banner message is just too inflammatory.
This resulted in our driver being both verbally abused throughout the course of the Manchester operation and then physically assaulted by a member of the public. An incident attended by the police and for which I understand a man was arrested.
If you can find another contractor who is prepared to undertake the work, we would be happy to arrange for the banners to be delivered to them.
I can understand that it would be 'inflammatory' if I were produce a poster insulting people because of their skin colour or even because they wore women's clothing while still having a healthy, well-functioning penis.
But apparently in our perverse. progressive, politically-correct world, it is now considered 'inflammatory' to dare suggest that the Earth's climate is controlled by things like the Earth's varying orbit around the Sun (Milankovitch Cycles), the Earth's tilt, levels of solar activity and such cyclical phenomena as El Nino, La Nina, the Atlantic Multidecadal Oscillation, the Madden-Julian Oscillation and the Indian Ocean Dipole.
It is now apparently 'inflammatory' to dare question the end-of-time superstitions of the woke, progressive, scientifically-challenged, pig-ignorant, Greta-adoring doomsday cultists.
It seems that free speech in the UK is only allowed for those with the 'correct' opinions.