Wednesday/Thursday blog
How I became an 'untouchable'
Since the publication of my latest book – THERE IS NO CLIMATE CRISIS – I have been trying to get interviewed by the mainstream media about the book.
Of course, there is no chance that media like the Greta-worshipping, woke, West-loathing BBC or C4 News would go anywhere near someone daring to question whether an increase in a trace gas from 3 parts per 10,000 of our atmosphere to 4 parts per 10,000 over 150 years really was about to drastically change our planet's climate and wipe out most of mankind.
But I had imagined that someone like Julia Hartley-Brewer or Mike Graham from Talk Radio or Nigel Farage from GB News might dare question the scientifically-ignorant, cult-like climate catastrophist nonsense. When contacting these people, I particularly highlighted that the claim of "97% of scientists" supporting the man-made global warming theory was probably the greatest scientific fraud in human history. But I found that nobody wanted to go anywhere near the story.
Is Andrew Neil a climate catastrophist now?
One thing I have noticed is that those few journalists who dare report on supposed climate change will discuss things like the cost of getting to net zero or the effectiveness of heat pumps or the fact that China is the greatest emitter of CO2. But none will question whether net zero is actually necessary. The latest example I saw was an article in the Daily Mail a couple of days ago written by Andrew Neil:
https://www.dailymail.co.uk/news/article-10074327/Still-keen-green-bills-arrived-ANDREW-NEIL-warns-storms-come.html
While discussing the cost of net zero, Andrew Neil wrote: "All governments, of course, have a duty to tackle climate change, which is real and potentially dangerous on so many fronts".
What we can't know is whether Andrew Neil really believes that limiting trace gas CO2 emissions will somehow change the Earth's climate or whether he was forced by Daily Mail editors to include such a sentence because the editors were terrified of the newspaper being accused by the Twitter lynch mob of being "deniers". But I have noticed that most articles about climate and net zero nowadays include similar (IMHO 'grovelling') obeisance to crazed Saint Greta's climate catastrophist cult.
There doesn't appear to be anybody anywhere in the mainstream media with the scientific nous or the cojones to denounce the whole climate crisis hysteria for the obvious mass delusion that it is. So my chances of ever being interviewed by anyone in the mainstream media are definitely less than net zero.
More climate nonsense from the Scrotsman?
As we move ever closer to Boris and Carrie's big climate, hot air, Glasgow gabfest, the media is full of stories designed to terrify us into quivering serfs ready to accept whatever new restrictions on our lifestyles to get to net zero that our increasingly demented rulers think up. Here's a nice opinion piece from the Scrotsman: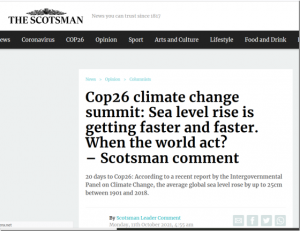 And here's the reality – the sea level rise as measured at Aberdeen: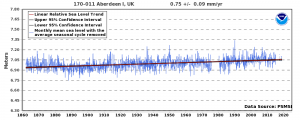 Not much sign there of 'sea level rise is getting faster and faster' as the Scrotsman claims.
And here's the sea level 'rise' from Stockholm which is in a similar part of the world to Aberdeen: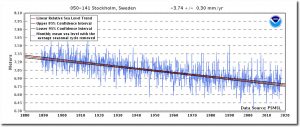 If you have ever taken a bath (probably something most climate activists and Scrotsman supposed 'journalists' are unfamiliar with) you would know that the water cannot be rising in one part of the bath while falling in another part. And if you wanted to write about sea levels, you should probably check out such concepts as Post Glacial Rebound (why sea levels around Scrotland appear to be rising) and Glacial Isostatic Adjustment (why sea levels at Stockholm appear to be falling)
Apparently the Scrotsman used to be a newspaper. Now, like most of our mainstream media, it's just propagandist, Greta-worshipping garbage.