Monday/Tuesday blog
Best friends for life?
Here are (IMHO) two of possibly the world's greatest modern mass murderers: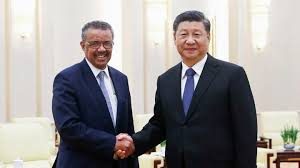 So far they are only responsible or about 5 million deaths directly due to the lab-leaked Chinese Wuhan plague plus maybe another 5 million due to people unable to get treatment for other conditions like heart attacks, strokes and cancer due to health systems collapsing under the weight of a tsunami of WuFlu sufferers. But over the next few years, many millions more will certainly die thanks to these two men.
As you can see, Emperor Xi and Tedros the Honest Ethiopian are the greatest of chums. Whatever Xi Pingpong says, his best friend for life (BFFL), Tedros the Honest Ethiopian, dutifully backs up Pingpong's lies and propaganda: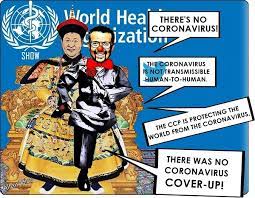 Tainted Tedros does a reverse ferret?
But last week something strange happened. Tedros the Honest Ethiopian did a spectacular reverse ferret. Having faithfully (to his Chinese masters) done everything possible to cover up the fact that the WuFlu Chinese plague leaked from a Wuhan Institute of Virology lab, Tedros suddenly started talking up this possibility. Here's what Tedros the Trustworthy said:
"I was a lab technician myself, I'm an immunologist, and I have worked in the lab, and lab accidents happen. It's common".
Why the sudden change of heart by Tedros the Honest Ethiopian? Did his monthly $1m cheque from the Chinese Communist Party bounce? (That's a joke, Tedros) Or is Tedros the Honest Ethiopian dumping his BFFL Xi to save his own skin?
People like Tedros the Honest Ethiopian get to top positions by sensing which way the wind is blowing and making sure they are facing that direction. Clearly Tedros the Honest Ethiopian has seen that the China/WHO cover-up is falling apart and that the world is going to find out that the virus leaked from a Chinese military biological weapons programme being conducted partly using US taxpayers' money (thanks IMHO to Dr Faustus Fauci) at the Wuhan Institute of Virology.
If that happens, Tedros the Trustworthy wants to make sure he doesn't get dragged down with his Chinese chums. Prepare for Tedros the Trustworthy to rewrite history by insisting he suspected a lab leak all along.
The coming Ice Age?
As we're on the subject of rewriting history, for a little start-the-week amusement here's a reminder of the glorious 1970s when the world's climate scientists all agreed that we were heading for a new Ice Age with freezing temperatures, crop failures, mass starvation and millions of deaths:
Of course, in the spirit of rewriting history, none of the climate catastrophist media will ever mention that they were all convinced in the 1960s and 1970s that we were about to freeze to death:
Some things never change: