Friday/weekend blog
First – a bit of climate news
Hopefully you've all been driven to bed-wetting terror by the 'frightening' reports on the BBC and C4 News of record heat and a few heat-linked deaths in Canada. Clearly, this one weather event proves that man-made global warming is going to fry us all.
But the supposedly balanced BBC and the always anti-British, UK-hating C4 News haven't mentioned the fact that on the other side of the world, the weather across Australia and New Zealand has been so bad that their ski season will be starting early this year and the owner of one ski shop was quoted as saying: "It's probably the best start to the season I can remember."
Even the Guardian reported the particularly bad weather: "Although the cold front wreaked havoc across Victoria, with floods and wild weather cutting power, damaging homes and leaving one person dead, the cold has brought heavy snowfalls in the Blue Mountains, southern highlands, northern ranges and northern tablelands."
Meanwhile Brazil has seen record snowfalls – Santa Catarina recorded snow accumulations in Urupema and Sao Joaquim early Wednesday morning, June 30, the third consecutive day of the rare phenomenon including below-zero temperatures. According to the Information Center of Environmental Resources and Hydrometeorology of Santa Catarina, this is the first year since 2000 that such a meteorological event has been recorded three consecutive days.
So, is the Canada heatwave definite proof of global warming? Or is the snow in Brazil and blast of Antarctic cold weather across Australia and New Zealand definite proof of global cooling? Or is neither proof of anything?
And, if there are any readers who might be able to scrape £7.99 together without totally bankrupting themselves and consigning their families to crushing poverty for eternity, how about showing a bit of support for this website by buying a copy of my latest book THERE IS NO CLIMATE CRISIS. Or, if you can stretch to a massive £15.98, you could buy two copies of my book and then you wouldn't have to pay for postage as all book orders over £10 get free postage.
Do you live in a mixed race household? If not, you must be a racist!
If you watch any TV ad or see any ads in newspapers, you'll know that almost every ad showing a family shows a wonderfully politically-correct, happy mixed-race family: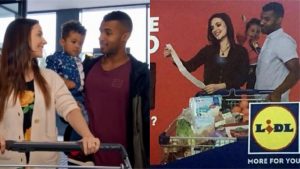 So, you might get the impression that pretty much everyone nowadays lives in a mixed-race household.
I thought readers might be interested in knowing how frequent mixed-race households actually are. So, I've looked at the figures from a 29 August 2020 report from the Office for National Statistics (ONS) and there aren't quite as many mixed-race families as the politically-correct ads and grovellingly libtard advertisers would have us believe.
Of the 15,015,145 households consisting of more than one person, 94.6% are single race. Of these 94.6% single-race households, 87.8% are single-race white households, 5.4% are single race Asian households and 1.4% are single-race black households.
Or we could look at it another way:
Of all households where the 'household reference person' (HRP) is white, 95.5% are single-race white
Of all households where the HRP is Asian, 95.6% are single-race Asian
Of all households where the HRP is black, 93% are single-race black.
This sort of suggests that the happy, omnipresent mixed-race households that are being shoved in our faces day after day after day are rather rare in reality.
And I won't even mention mixed-race, same-sex couples:
I suspect they are vanishingly rare in spite of the media's attempts to convince us that they're becoming the norm.
And then, of course, we have mixed-race, trans couples. Good grief!
Below are the figures from the ONS on mixed-race households and below that is the link to the ONS website in case anyone thinks I'm exaggerating or lying or racist or whatever ……….
 

 

 

Number of households
Ethnicity within marriage or cohabiting relationship for Household Reference Person (HRP) and spouse/partner
White
13,196,882
White and Asian
206,416
White and Black
108,795
White and Mixed/other
268,310
Asian
805,105
Asian and Black
7,655
Asian and Mixed/other
29,684
Black
213,326
Black and Mixed/other
15,995
Mixed/other
162,977
All in marriage/cohabiting relationship
15,015,145
HRP not married, not in cohabitating relationship, or not in same household as spouse/partner
12,390,477
Total
27,405,622
https://www.ons.gov.uk/peoplepopulationandcommunity/birthsdeathsandmarriages/marriagecohabitationandcivilpartnerships/adhocs/12186ethnicitywithinmarriageorcohabitingmixedsexrelationshipuk2018