(Monday/Tuesday blog)
"Record cold temperatures don't mean the Earth isn't warming"
On the news yesterday, I heard that somewhere in China had registered its coldest day since records began. Meanwhile in the USA, snowfalls in 2019 and 2020 have started earlier than they have for at least the last 40 years. This year Australia is also having its latest snowfall ever – at the start of the Australian summer. Meanwhile this year Delhi in India had its coldest November for 71 years.
Obviously this was not what the Global Warming, Climate Change, Climate Disaster, Extinction Rebellion idiots predicted. So they're fighting back writing articles with ridiculous headlines like "Record cold temperatures don't mean the Earth isn't warming".
But if the deluded, scientifically-challenged Warmies can get away with claiming that "Record cold temperatures don't mean the Earth isn't warming", then that poses a possibly interesting question: every time the Warmies and their sycophants at the BBC and C4 News say some month or year is really really hot, why can't I claim that "Record warm temperatures don't mean the Earth isn't cooling"?
What about it Warmies?
Gormless, gutless Guterres speaks
The useless United Nations has also been spurred into action. On Saturday 12 December 2020, just a few days ago, the (IMHO) pig-ignorant, self-serving, gutless, socialist, globalist waste of skin, UN boss Antonio Guterres, demanded that governments around the world should all declare a state of climate emergency until the world has reached net zero CO2 emissions: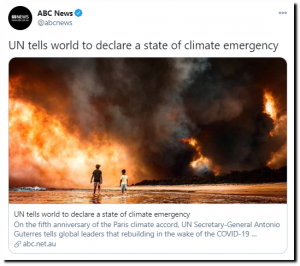 I guess this is the same useless UN which warned us 31 years ago (in 1989) that – yup, you guessed it – the world was facing a global warming climate emergency/disaster:
Hot, cold, hot, cold, hot….
And while we're on the subject of impending climate disaster, let us not forget that the very same research-grant-grabbing 'experts', who since 1989 have been fiddling their figures to lucratively warn us the Earth was warming catastrophically, were mostly the same experts who just 15 years earlier were confidently predicting a new disastrous Ice Age with crop failures and mass starvation: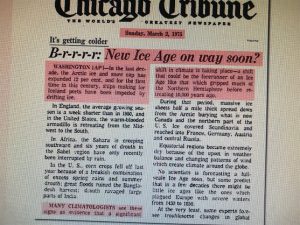 I imagine the mainstream media rather hopes we've all forgotten their hyperventilating warnings about us all freezing to death. Here's what the Guardian was once predicting::
And here's the Washington Post:
Will we get fooled again?
Are we really going to let these unelected, power-hungry globalist scumbags peddle their fake climate emergency nonsense yet again as an excuse to impose ever more restrictions on our lives?
The answer to that question is unfortunately – YES!
That's especially the case in the UK where Boris wants to grandstand at some wankers' climate conference he's chairing in 2021. And I suspect that our PM Bonking Boris knows that his little Boris won't get access to Princess Nut Nut's temple of love unless he grovellingly agrees with all the climate change or global warming or climate disaster or whatever it's called this week rubbish that Princess Nut Nut, with her university degree in something like art history and theatre studies, as far as I understand reportedly believes.
Sky News Australia – don't you love them?
So, where can we get just a little sanity? Certainly not from any of the UK or US mainstream media. So let's have a quick look at Sky News Australia: