(last blog before Christmas)
I'm not a believer
First a small point – I do not believe the Government statisticians and supposed health experts' claims that in most UK larger towns and cities, one in every hundred people is infected with Xi Pingpong's Chinese plague. I simply don't believe that, if you walk down a reasonably busy town or city street, one of every hundred people there are currently infected with Covid-19.
I don't know whether:
half or more of the supposed carriers are false positives
other cold and flu viruses are causing a 'positive' result
the PCR test or lateral flow test or whatever they're using is inaccurate
there is cross-pollution of the samples
the sampling methods being used are causing an exaggerated result
or there is some other cause
But with all the face-mask-wearing and social distancing and self-isolating and other precautions people are taking, I simply do not believe that one in every hundred people are carrying the Covid-19 Coronavirus.
Moreover, I do not believe the constant refrain of the NHS being overwhelmed. While I believe there are quite a lot of Covid-19 cases in our hospitals, I had also understood that there was a dramatic drop in seasonal flu cases due to the measures being taken to control the Chinese plague. But this is never mentioned by the politicians and the 'experts' as they wreck our economy and millions of people's lives to save us from ourselves.
Basically, I do not believe we're being told the truth.
However, I do believe that, once the Wu-Flu crisis is over, the same lies and shock/horror statistics and controls and other coercive methods will be used against us supposedly to "save the planet". As the great George Orwell warned:
Having tasted the pleasure of total control over our lives, there's no way the politicians and experts and technocrats and bureaucrats will ever relinquish it. What we can expect to see is the 'retired St George syndrome' – having killed the dragon, St George has nothing to do to give meaning to his life. So he invents new dragons to slay.
That's what our rulers will do after vaccines defeat the Chinese plague.
Maybe it's time to take a Christmas break?
Back on Monday 4th January 2021.
In the meantime, here's America's next president wishing you all a great Christmas if he can remember when Christmas is and what Christmas is.
(left-click once on the image then wait for a few seconds and left-click once again to see the great Joe 'China' Biden – soon to be the second most powerful man in the world – expressing his deepest thoughts)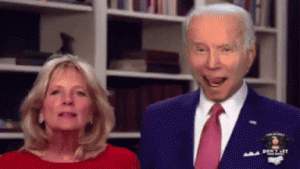 The great Xi PingPong is, of course, now the most powerful man in the world as he has bought the whole Biden family with the millions Xi has shoved into the Biden family's bank accounts;