(Wednesday blog)
I'd like to follow on from yesterday's blog in which I featured a Lebanese journalist daring to tell Palestinians they are "idiots" for continuing their war against Israel when they could be living in peace.
So here's a short story in pictures in today's blog.
Here's the Yasser Arafat International airport in Gaza in 1998:
And here are Palestinians celebrating the opening of the airport on 24 November 1998:
And here are Bill Clinton and Yasser Arafat arriving at the Gaza international airport in December 1998:
And here's the Yasser Arafat Gaza International airport today:
And here's another one of the airport today:
Every year the Palestinians get over $2bn in aid (the right-hand UNRWA column on the chart below):
Over the 22 years since the Yasser Arafat Gaza international airport opened, the Palestinians have received over $44bn in free money.
But where has all that money gone? With all that money Palestine could be one of the most prosperous countries in the world. But instead it's a total sh*t-hole where most Palestinians live in excrement-scented poverty: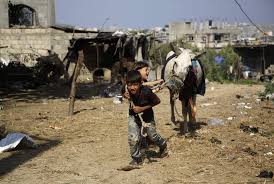 Palestinian leaders are all multi-millionaires or even billionaires. The continuing conflict with Israel makes them rich.
Unfortunately there doesn't seem to be a single ordinary Palestinian with sufficient IQ to realise that peace would bring prosperity while conflict only brings destruction and immiserisation.
What a bunch of dumbasses!
It's time to stop all aid and let the d*ck-head Palestinians figure out that we're all fed up with their intolerance, violence and brobdingnagian stupidity.