(Friday/weekend blog)
Please do NOT look at the chart below!
Why not? Because it suggests that our climate changes in cycles alternating between warm and cold. And some lunatics (like myself) even believe that the cyclical nature of our climate might have something to do with the fact that most planets in our solar system are round and follow a cyclical path around the sun and that our climate is influenced by variations in that cyclical path: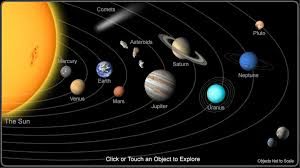 The Warmies and Greenies and Extinction Rebellion idiots would have us believe that our climate has been fairly stable for thousands of years and is suddenly moving upwards in a linear fashion because of humans increasing the level of CO2 in the atmosphere from about 300 parts per million to a bit over 400 parts per million – the top line in the chart below:
Here's a pictorial representation of the amount of CO2 in the atmosphere. The level of CO2 is the tiny little bit in the lower right-hand corner of the picture: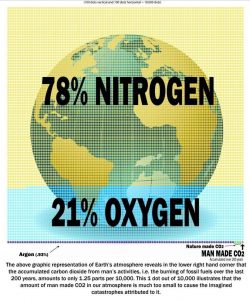 Yet the Climate Emergency cult, supported by all the mainstream media, demands that we believe this tiny amount of CO2 in the atmosphere is going to cause a catastrophic change in our climate which will wipe out all mankind.
This is in spite of the fact that the level of CO2 has been much higher in the past (the black line on the picture below):
So, here's a rather calm and sensible gentleman explaining how our climate changes in cycles, how we're moving into a cooler period and how we're stupid beyond belief for abandoning our key energy sources – coal, oil, gas – when we'll start to need them most: