(Monday blog)
Covid-19 melts snowflakes
Never in human history has there been so much whining, bleating and moaning by such total drips about so little.
I am, of course, referring to Britain's woke, selfie-adoring, social-media-obsessed, snowflake students. As new cases of the Wuhan flu soar amongst student populations, a few thousand of the 700,000 or so students starting university this year have been asked to self-isolate in their comfortable halls of residence for a mere 14 days. From reports on the useless BBC and UK-hating C4 News, students apparently see this request to isolate for a couple of weeks as a total life-destroying disaster which will cause horrific mental health problems from which many may never recover even with intensive support and counselling.
Previous generations of young people have been sent to fight wars and many have died or been horribly wounded. But they showed stoicism and self-sacrifice. Today's spineless drips can't even face a couple of weeks confined to their halls of residence: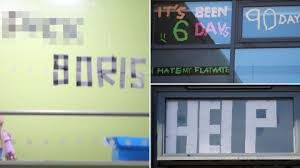 Many have said they're already bored out of their little minds. I guess I'm old-fashioned but don't they have some books to read? Don't they have loads of academic articles available on the Internet to study? Isn't this an opportunity for them to get ahead with their learning? Or did they expect university to be like school where there's no need to learn anything as long as you spout the politically-correct nonsense about supposed Climate Change and supposed Institutional Racism and supposed White Privilege that your supposed 'teachers' have brainwashed you with?
Though perhaps when you're doing worthless courses like Gender Studies, Media Studies and something as 'academically challenging' as Golf Course Management, there really isn't that much to learn?
Others have put "F**K Boris" signs in their windows as if it was one of their human rights to go out and infect people with real jobs who have to work to support their families, as if it was one of their human rights to spread Xi Pingpong's plague causing more lockdowns, more businesses to close, more people to be ruined.
Trump kicks China's *ss at the United Nations
Apparently there has just been some huge UN conference. I believe it was done online and many of the speeches were pre-recorded.
We didn't hear much about this on the UK mainstream media. The only mention I heard was from the BBC that the useless Johnson has pledged the UK to do more greeny rubbish to destroy our economy and UK jobs to meet the Paris Agreement targets that every other country ignores.
So, once again we have to turn to Sky News Australia to give us some of the best bits that our media would never mention.
Here's a brief Sky News Australia video. It has a bit about the inanimate corpse that is Joe Biden and then two wonderful excerpts from President Trump excoriating the filthy, corrupt, disease-ridden, lying Chinese for the Wuhan flu, for polluting the planet, for destroying many countries' fish resources and much more.
If only we had just one politician in the UK prepared to tell the truth the way that Trump does.
Let's hope Trump gets a landslide and four more years: