(Friday blog by David Craig – proudly banned from commenting by the Times and Sunday Times for insufficient political correctness)
With Greeny, Greta-worshipping stuff you can find whatever figures you want to justify either:
Global warming will wipe us out within the next ten years
There has been no warming at all
Burn baby burn!
So far this year the two big Global Warming panics/scams (delete as appropriate) concerned the supposedly 'unprecedented' and 'apocalyptic' wildfires in Australia and more recently in California and Oregon. The BBC and C4 News howled and screamed that never before had so much land been destroyed by wildfires and that this was definite proof of Global Warming.
But here's a chart that suggests the BBC's and C4's howling and screaming are somewhat misleading:
It shows the 'Global Burned Area' from 2003 to 2015 taken from satellite observations. If accurate, this suggests that the Global Burned Area has been decreasing. But this chart only goes up to 2015. So maybe it doesn't prove that this year's wildfires have been within a normal range.
So, here's a more up-to-date table showing the number of wildfires and acres burned from the USA since 2010: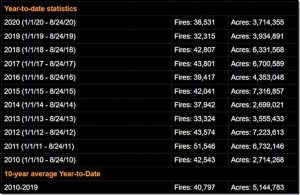 If these figures are accurate, they suggest that 2017 and 2018 were well above the 10-year average of 40,787 fires burning 5,144,783 acres. But 2019 and 2020 have been around 25% below the 10-year average. (though this only goes up to 24 August 2020)
Naturally, California's Greta-worshipping Democrat governor Gavin Nukesom blamed Global Warming "The debate is over, around climate change," Mr. Newsom told reporters. "This is a climate damn emergency. This is real and it's happening."
Meanwhile, Trump was ridiculed by the mainstream media (as usual) for suggesting the fires had nothing to do with Global Warming and that poor forest management due to Greeny environmental policies preventing controlled burnings of fallen trees and scrub were to blame for the extent of the burning:
As one organisation pointed out "Environmentalism is why California stopped grooming forests or doing controlled burns to get rid of deadwood (AKA tinder). All this misbegotten environmentalism has controlled California even as more people have moved into fire zones over the past several decades".
And nobody dares mention how many fires are started deliberately by Black Lives Matter and Antifa activists as part of their 'peaceful protests'. Here's a nice photo from Oregon. It shows a local lady holding an alleged arsonist at gunpoint until the police arrived to haul him away: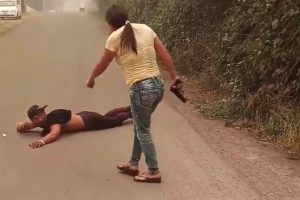 She found him on her land with a lot of matches. When asked why he had so many matches, he said he was a smoker. But when asked to show his cigarettes, he was unable to produce any.
You won't see that story in any of the mainstream media
What about the early snowstorms?
Another story you won't see reported in any mainstream media is that the US states of Wyoming, Colorado and a few others have just experienced their earliest snowfalls for over 100 years. Boulder Colorado and Denver had their first and earliest snow on September 8 this year and a local weather station is running a competition for people to guess when the second snowfall will come:
Nobody in the mainstream media is going to mention the record early snowfalls in the USA as they don't fit the Greenies' Global Warming narrative.
Meanwhile in Australia
Perhaps the most damning example of the idiocies of the environmentalists was during the Australian fires earlier this year.
An Australian named Liam Sheahan cleared trees and shrubs within 100 metres of his home in the hills at Strath Creek, central Victoria, to create a firebreak in case bushfires ever hit. While Mr Sheahan thought that was a 'common sense' decision, the local council did not, taking him to court where fines and legal costs left him $100,000 out of pocket
However his decision to clear the land was vindicated when his property was the only one still standing after bushfires devastated the tiny town.
I've been trying to find the short video in which an Australian fireman (son of a fire chief) rages against the Greenies for their legislation preventing people creating firebreaks using controlled burning during the Australian winter. But it seems to have disappeared. However, here's another one in which a Australian public enquiry into the wildfires this year discovers to its astonishment and amazement something that most Australians (except Greta-adoring Greenies) have known for over a hundred years – in a hot dry country you need active forestry and land management to avoid catastrophic fires: