(Thursday blog)
Today I wanted to focus on Joe Biden's increasingly obvious and increasingly worrying mental decline as we never hear anything about this in the Trump-loathing, Democrat-adoring UK mainstream media.
I don't know how many readers are old enough to remember the 1961 film El Cid starring Charlton Heston and Sophia Loren: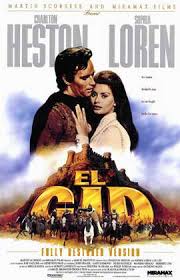 At the end of the film Charlton Heston (El Cid) dies trying to defend Spain against the invading Moor (Muzlim) army. But with the help of an iron frame, Heston's generals prop up his corpse, dressed in armour and holding a banner, on the back of his horse Babieca. Guided by two of his generals riding on either side, the horse carrying El Cid leads a charge against the Moors. Believing that El Cid has risen from the dead, the terrified Moors flee and are thoroughly beaten.
That brings us to Joe Biden. Sleepy Joe may actually still be alive. His body is still moving, but his brain seems to be going going gone. Yet the Democrats are desperately propping him up just like the Spaniards in El Cid propped up the dead Charlton Heston. Although, unfortunately Biden is no Charlton Heston. He's more like Private Godfrey in Dads' Army:
Joe 'Private Godfrey' Biden has a teleprompter in his basement to tell him what to say when he is fed easy pre-prepared questions supposedly asked by ordinary members of the public. He accidentally revealed this when holding up a photo of himself and his two sons during a basement broadcast: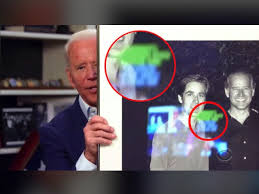 Occasionally Biden is allowed out of his basement to give a short speech somewhere or other and he's typically pictured waving to an empty field as nobody can be bothered to turn up to listen to him: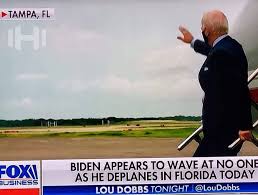 After each speech, Biden is hurried away by his minders to avoid him taking any questions from reporters.
Each time, he does give a speech, Biden gets confused, loses his way and just starts rambling incoherently.
You wouldn't be aware of any of this if you only followed the Biden-adoring, Trump-despising UK mainstream media. But it's difficult to imagine the howls of mockery and derision from the BBC, C4 News (Jon Snow, Krishnan Whatever and Kathy Newman) and the UK newspapers if Trump was making the same gaffes as Biden.
Biden has declined so dramatically, that one might wonder whether Biden is the new El Cid, a sort of Private Godfrey already totally useless but propped up by his generals to win the election by conning moderate voters before being unceremoniously dumped by the more extreme wing of the Democrat Party and replaced by the much more radical Kamala Harris, the Bernie Bros and the Squad: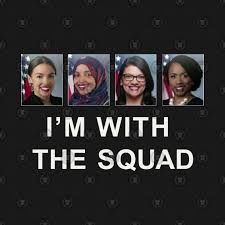 The vice president's role is usually clearly subordinate to that of the president. But Kamala Harris is already talking in her speeches about "a Harris administration with Joe Biden".
There are loads of wonderful videos highlighting Joe 'El Private Godfery Cid' Biden's mental incapacity:
But here's one pointing out that Biden is just being used like an already dead El Cid, by the real powers in the Democrat Party led by the very ambitious Kamala Harris and the leftists.
God help America!