(weekend blog)
Very short memories?
In Wednesday's blog, I focused on the lying Democrat liars' very short memories as they queued up during the Democrat convention this week to blame President Trump for acting too slowly on the Chinese Covid-19 plague. Yet when the Chinese plague originally reached the USA in January 2020, they all queued up to accuse Trump of exaggerating the danger of the Chinese Covid-19 plague to create a fake crisis.
Trump's harshest critics in January included Democrat presidential candidate Joe Biden who called Trump's warnings about the Chinese virus and ban on flights from China "Hysterical Xenophobia" and "Fear Mongering". And New York Mayor Democrat Bill de Blasio assured New Yorkers that Covid-19 was "no worse than a common cold". Here's Mayor Bill de Blasio on 25 January 2020 encouraging people to get out and celebrate the Chinese Lunar New Year in New York's Chinatown: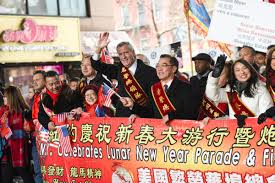 New York has now had over 23,000 Covid-19 deaths. London (which has a similar population to New York of about 8.5 million) has had around 8,300 Chinese plague deaths.
Oooops!
I wonder how many of New York's coronavirus dead got infected by following Mayor Bill de Blasio's encouragement to get out, mix with large crowds and have fun while Trump was warning about the dangers of the Chinese plague?
The woman with the USA's shortest memory?
But the 'forgetfulness' of people like Joe Biden and New York mayor Bill de Blasio are nothing compared to the recent memory lapse of the fragrant Kamala Harris – now Biden's chosen candidate for Vice President.
At an event in Carson City, Nevada, on April 2, 2019, a reporter asked Harris the following question: "As somebody who has a relationship with Vice President Biden, what message would you give the women who feel like their space has been invaded in the past, by the vice president?"
Harris replied: "I believe them, and I respect them being able to tell their story and having the courage to do it."
At that time, four women had publicly accused Biden of inappropriately touching them.
However, now that Kamala Harris has been chosen to be Biden's pick for Vice President, she is claiming that creepy touchy-feely Joe Biden is absolutely the best man to lead America.
Maybe Kamala has 'forgotten' all the women who have accused her new best friend for life, Joe Biden, of having wandering hands and a tendency to sniff women's hair?
Kamala's sudden reverse ferret on Biden's suitability to be president could remind the more cynical amongst us of the famous Groucho Marx quote: "Those are my principles, and if you don't like them… well, I have others"