(Thursday blog)
Yesterday I briefly congratulated the fascist scum pretending to be BLM (Black Lives Matter) protestors for scoring a spectacular own goal when they apparently managed to force one of the USA's highest-ranking and most inspirational African-American police chiefs, Carmen Best, to resign after 28 years in the Seattle Police Department: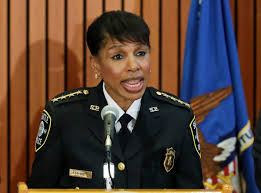 Now the fascist scum pretending to be BLM supporters seem to be trying to play the same trick – pretending to be angry about supposed racial injustice, they've started rioting and looting for justice in Chicago.
On Monday night, looters claiming to be protesting about the police shooting one of the usual violent, dangerous African American criminals descended on Chicago's 'Magnificent Mile' – an upmarket shopping area.
Protestors/looters were caught on camera shoving shopping bags full of stolen goods and equipment into their cars. Some ATM machines were also damaged and broken into, along with cash registers that were stolen. At least one bank had also been broken into.
Videos of the vandalism showed huge crowds of people smashing their way into businesses and streaming out of the broken windows and doors with clothes and other merchandise. They loaded up vehicles, some moving slowly and deliberately, apparently not worried about being caught by police or being recorded by scores of cellphone cameras: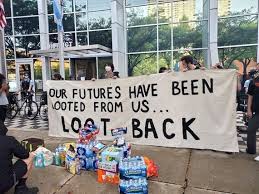 Vehicles drove away slowly, some leaving behind boxes of rocks that they had apparently brought to shatter the windows. Stores miles from downtown were also ransacked, their parking lots littered with glass and boxes that once contained television sets and other electronics.
When they weren't filling up their cars with loads of looted stuff, the supposed protestors screamed abuse at Chicago  Mayor Lori Lightfoot and demanded the Chicago Police Department (CPD) be defunded: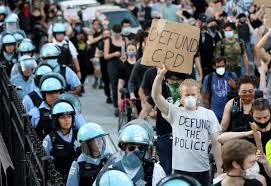 Here's Chicago Mayor Lori Lightfoot: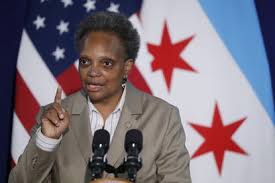 Yup, you guessed – she's an African American. She's not some ghastly, waaccissst supposed white supremacist.
And here's Chicago Police Superintendent David Brown explaining that what happened in Chicago was violent criminality which had nothing to do with any legitimate protests.
Oh, and by the way, David Brown is an African American – the kind of African American the BLM protestors/looters claim to support but really seem to hate.
Why do BLMers hate people like Carmen Best and Lori Lightfoot and David Brown so much? Because the supposed BLM protestors are really West-hating, Trump-loathing, violent, Democrat-voting lefties who hate any person in authority even if (especially if?) they're actually black: