(Wednesday blog)
Just a short blog today to celebrate a truly remarkable own goal by the self-regarding, virtue-signalling, historically-challenged, narcissistic, free-speech-hating, West-loathing, libtard, fascist idiots rioting supposedly for Black Lives Matter (BLM).
A great victory for Seattle's BLM rioters?
As you'll probably know, the US city of Seattle was the scene of some of the worst BLM protests/riots:
And it was in Seattle that the violent protestors/rioters chased the police out to establish the Capitol Hill Autonomous Zone (CHAZ):
And it was in Seattle that the BLM dumbass protestors/rioters screamed loudest for the police to be defunded:
Well, the good news is that the protestors/rioters seem to have won. This Monday the (mainly white, democrat-supporting) Seattle City Council took votes to rebalance Seattle's battered 2020 budget and start reducing the size and scope of the Police Department. It also promised to make more dramatic changes to public safety services next year.
Budget amendments passed by the council are intended to shrink the force by up to 100 officers through layoffs and attrition this year; dismantle a team that removes some homeless encampments; and cut the wages of Police Department command staff between September and December, among other actions
Hooray for the protestors/rioters! Hooray for BLM's courageous fight against Seattle's supposedly ghastly, waaccisst, police!
Oops – she's black!
There's only one small problem with the (mainly white?) BLM rioters' great victory against the supposedly waaccisst Seattle police. The boss of Seattle police is not only an African American, she's also a woman – Carmen Best: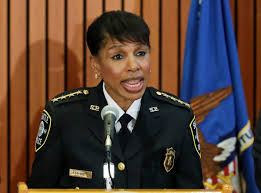 From what I understand, Carmen Best has spent 28 years in the Seattle Police Department during which time she worked her way up from being an ordinary cop to being in charge of the Department. And now (from what I understand) faced with the hostility from Seattle's mainly white city council and mainly white BLM rioters, Carmen Best has resigned.
Carmen Best was one of America's most respected and capable African American law enforcement officers. She was also an inspiration to other African Americans by showing that with hard work and talent there were no limits to what African Americans could achieve. But now, thanks to the mainly white BLM rioters and mainly white Seattle City Council, Carmen Best will soon be gone.
Well done you (mostly white) virtue-signalling, West-hating, free-speech-loathing, self-regarding BLM idiots. Well done! You've managed to chase out one of America's leading black police officers.
You dumbass idiots!