(Monday/Tuesday blog)
Utterly useless government run by Bojo the Clown?
I agree that the UK government's response to Xi Pingpong's Covid-19 Chinese plague has been disastrous:
the UK has the second highest rate of deaths per million of population in Europe
Hancock, Williamson, Sharma and all the the other lightweight politicians have been worse than a joke inspiring about as much confidence as a chocolate teapot
our bureaucrats such as Public Health England (PHE) and NHS procurement have been shown up to be (IMHO) lazy, incompetent, arse-covering, over-paid, over-pensioned fools
Oh, and here's the magnificent Yvonne Doyle from the wonderful Public Health England: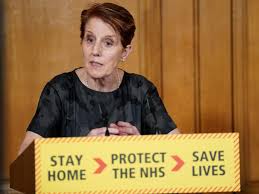 At least this seems to be the standard narrative propagated by most of our 20/20-hindsight journalists and believed by most people.
But maybe this is because we all have rather short memories?
But did the 'experts' get it wrong?
I have been trawling back through what really happened at the start of Xi Pingpong's Chinese plague and came across this from a blog I wrote on 19 March 2020:
The four nations public health group (including the now infamous and ludicrously-misnamed Public Health England) made an interim recommendation in January 2020 to classify COVID-19 as an HCID (High Consequence Infectious Disease). On its government website on 19 March 2020, Public Health England (PHE) announced that COVID-19 is no longer considered to be a High Consequence Infectious Disease (HCID) in the UK.
Here's a link to the official government/PHE website from 19 March:
https://www.gov.uk/guidance/high-consequence-infectious-diseases-hcid#status-of-covid-19
In the UK, a HCID is defined according to the following criteria:
acute infectious disease

typically has a high case-fatality rate

may not have effective prophylaxis or treatment

often difficult to recognise and detect rapidly

ability to spread in the community and within healthcare settings

requires an enhanced individual, population and system response to ensure it is managed effectively, efficiently and safely
The government is constantly being lambasted for shutting down the economy too late. Yet just one week before the government did implement the lockdown on 26 March 2020, its advisors from the useless PHE downgraded the seriousness of Xi Pingpong's Chinese Covid-19 plague.
As far as I'm aware, none of the mainstream media have thought to mention this. Why not? Because it doesn't fit into their "the government is run by a floppy-haired clown and is to blame for everything" narrative? The last thing the media wants is some positive stories about the government's Covid-19 response.
If the 'experts' were correct in downgrading Xi's Chinese plague, this asks the question whether a better strategy would have been to isolate all those over 65 and all those who had comorbidities making them vulnerable to the Chinese plague, but to have let the rest of the economy continue as normal allowing infections to build herd immunity? However, with the media – particularly the UK-hating BBC, UK-loathing C4 News and (IMHO) shouty idiots like Beth Rigby from Sky News and Piers Moron from GMB – screaming for action, I can understand why the government felt pushed into drastic action – crashing the economy – which may lead to the cure being worse than the disease.
From this it's clear that between 19 March and 26 March the government was caught between the proverbial rock and a hard place. Some of its 'experts' (PHE) were claiming one thing – relax, things aren't too serious – while Professor Penis from Imperial College and a hyperventilating media were demanding the opposite – shut the economy or we're all going to die!
Here's just part of the PHE recommendation from the PHE website on 19 March 2020:
As of 19 March 2020, COVID-19 is no longer considered to be a high consequence infectious disease (HCID) in the UK.
The 4 nations public health HCID group made an interim recommendation in January 2020 to classify COVID-19 as an HCID. This was based on consideration of the UK HCID criteria about the virus and the disease with information available during the early stages of the outbreak. Now that more is known about COVID-19, the public health bodies in the UK have reviewed the most up to date information about COVID-19 against the UK HCID criteria. They have determined that several features have now changed; in particular, more information is available about mortality rates (low overall), and there is now greater clinical awareness and a specific and sensitive laboratory test, the availability of which continues to increase.
The Advisory Committee on Dangerous Pathogens (ACDP) is also of the opinion that COVID-19 should no longer be classified as an HCID.
The need to have a national, coordinated response remains, but this is being met by the government's COVID-19 response.
Cases of COVID-19 are no longer managed by HCID treatment centres only. All healthcare workers managing possible and confirmed cases should follow the updated national infection and prevention (IPC) guidance for COVID-19, which supersedes all previous IPC guidance for COVID-19. This guidance includes instructions about different personal protective equipment (PPE) ensembles that are appropriate for different clinical scenarios.
Oooops, we all seem to have forgotten that!
You'll also see that, in addition to downgrading Xi Pingpong's Chinese plague from being classified as a HCID, PHE also recommended that Covid-19 sufferers should be treated in general hospitals rather than in specialist HCID treatment centres. This led to the disastrous panicked policy of sending over 15,000 elderly patients into care homes without testing them for Covid-19 to free up hospital beds because the NHS didn't want to see a situation like Italy or Spain where dying patients were left lying in hospital corridors.
I'm not defending the government's response
I'm not trying to defend the government's confused and contradictory response to the plague that Xi Pingpong unleashed on the world in order to increase China's power. But I do worry that the reporting from our headline-seeking, intellectually-challenged, often woke media has been simplistic and has a remarkable tendency to ignore any facts it finds which don't fit its "politicians are all idiots and we journalists are always much smarter" narrative.
My Wuhan song
And here, for anyone who hasn't seen it is my little video – The Wuhan Song: