(Wednesday/Thursday blog)
Given some recent events, some readers may be getting confused about what is permitted and what is forbidden in the new, exciting, woke, Orwellian, politically-correct, fascist Black Lives Matter Britain and USA. So, snouts-in-the-trough is pleased to provide a new guide to what is acceptable and what will get you cancelled, reviled, sacked and probably imprisoned.
Banners and logos
Carrying a Black Lives Matter (BLM) banner or displaying a BLM logo is politically-correct and strongly encouraged. In fact, if you're any type of sportsperson, failing to wear clothes which don't carry a BLM logo will get you fired and your career destroyed. Displaying a White Lives Matter banner or logo means you're a violent racist and will result in a police investigation for stirring up racial hatred and probably get you sacked from your job.
Statues and monuments
Attacking statues or defacing monuments because you are historically-ignorant and are offended by things which happened hundreds of years ago shows your courage and virtue and is strongly applauded and encouraged by the West-hating, democracy-loathing mainstream media – especially the BBC and C4 News in the UK and CNN and MSNBC in the USA. Trying to prevent raging fascist BLM mobs from destroying statues or defacing monuments proves you're a pig-ignorant, racist thug
Demonstrations and protests
A huge BLM protest march in which more than 20 police are injured is described by the mainstream media as 'largely peaceful'. A tiny group of people trying to protect statues of admired historical figures like Winston Churchill or President Andrew Jackson is a violent, thuggish mob even though no police are injured
Social distancing
To beat the Chinese Covid-19 plague deliberately sent to the West by China's president for life Xi Pingpong, you have to stay locked up in your home for a couple of months and then keep at least two metres away from other people. The only exception is if you want to join a BLM protest and riot. Then social distancing no longer applies and the more people who turn up and the more property that is destroyed by baying, hate-filled mobs, the better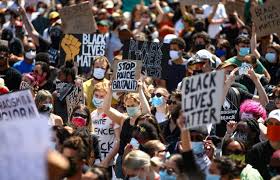 Small businesses
If you have a small business, you're not allowed to fully open it yet even though you may be going bankrupt and may have to fire all your staff. But you are allowed to go out and smash, loot and destroy other people's businesses and ruin their livelihoods
Parks and recreation spaces
To reduce the spread of the Xi Pingpong plague you are only allowed to visit parks and recreation spaces in small groups of fewer than 10 people and you must try to social-distance your group. Of course, should there be a statue of a historical figure in the park or recreation space, you're strongly encouraged to ignore social distancing in order to spray-paint slogans like "racist scum" and "fascist murderer" on the statues' plinths while trying to tear the statues down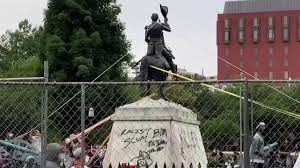 Only some black lives matter
While slavery existed 200 to 300 years ago many blacks were badly treated and hundreds of thousands died. You should be very angry indeed about this. Nowadays around five million black Africans die every year due to poverty, misery, disease and starvation inflicted on them because their own greedy, venal, kleptocrat, incompetent black rulers loot their countries stealing everything they can. This should not make you angry. In fact, you should always pretend this isn't happening and accuse anyone mentioning this of being a 'racist'.
Black slavery bad – white slavery ok
As stated above, you should always be very angry indeed about enslavement of blacks which happened several hundred years ago. However, you should never mention the enslavement, exploitation and mass murder of millions of white slaves (many of them Jewish) which happened in Nazi Germany just around 80 years ago. In fact, if you're a leading racing driver like Lewis Hamilton, you should ensure the media report you bravely speaking out against enslavement of black Africans hundreds of years ago while personally taking hundreds of millions of pounds from a company that enslaved and murdered tens of thousands of white slaves in the recent past. This is no longer considered 'hypocrisy'
Churches and worship
You cannot attend services in churches as you might spread President Xi Pingpong's Chinese Covid-19 plague. But it is quite acceptable to attack churches and try to burn them down, especially if you come from our favouritest and most peacefullest religion
Skin colour
If you are white, you are automatically oppressive, racist scum. But if you are a person of colour, you are automatically a victim of oppressive white racist scum. No person of colour can ever be a racist.
Gender and self-identification
You have to accept that there are at least 112 genders and that anyone can self-identify as being any of these 112+ genders at any time they wish. Should you suggest there are just 2 to 3 biological genders with 99.9% of people being either male or female and perhaps 0.1% being androgynous, you deserve to be reviled and cancelled, to have your career destroyed and, should you be an author, have all your books banned and burnt
Submission and subjugation
At all times you must be ashamed of the fact that almost every single scientific, medical or artistic advance the human race has ever benefited from have come from white people. You must constantly apologise for this and must 'take the knee' to show your submission to people who have never contributed anything to human advancement and who are hell-bent on destroying everything that mostly white people have created
Personal responsibility
You have no personal responsibility for any of your actions and no requirement to ever use what used to be called 'common sense'. At all times you must blame the government for everything and never accept that you have some responsibility for what happens in your own life.
Conclusion
These are just a few brief thoughts on the attitudes and behaviours required in today's woke, Orwellian, wonderful new world.
Follow these rules and you'll fit in well with the dystopian hell that the nihilistic, woke, fascist, free-speech-loathing, West-hating, anti-democratic Antifa mobs are trying to impose on us.