(Friday/weekend blog)
All Whites are racist scum
We all know that Britain and the USA are violent, dangerous, racist hell-holes in which all those from a BAME (Black, Asian and Minority Ethnic) background are hideously oppressed and often murdered by white supremacists.
Any BLM protestor will tell you that. I mean it's obvious innit? So we should all be taking the knee in submission and surrender to the BLM mobs in order to expiate our original sin – being white and therefore, by definition, racist.
But there are at least three not insignificant problems with the "all Whities are racist scumbags in the UK and US" narrative:
Problem 1 – Why do tens of millions want to come to the UK and USA?
It's odd that so many millions, or more probably tens of millions, more BAME folk are desperate to come to these two supposed racist hell-holes – the UK and USA. Given the crap spouted by the BBC, C4 News and the mainstream media, you'd think that most of our BAME friends would be desperate to escape from the UK and USA racist hell-holes and get back to those earthly paradises they or their predecessors originally came from.
Problem 2 – Was colonialism better than Black rule?
If you were to conduct an opinion poll in some sh*t-hole like Zimbabwe or almost any other sub-equatorial African cesspit asking whether people preferred those beastly white colonialists who built roads, railways, schools, universities, sewage works and a legal system or the Black leaders who have looted, raped, pillaged and impoverished their countries due to their greed, corruption, venality and stupidity, you might well find that a majority would welcome back the supposedly 'dreadful' white colonialists rather than the current generation of Black thieves, murderers and incompetents who now rule most of Africa.
Problem 3 – Indian Hindus don't seem to have any problems with supposed 'racism'
There's just one other minor, niggling problem with the "all Whites are racist scum" narrative spewed forth by the BLM activists – those pesky Hindus who originally came from India. In almost every profession, you'll find that Indian Hindus outperform us ghastly racist Whities in both the UK and USA.
Here are just a few headline findings from the latest UK Office for National Statistics (ONS) survey of ethnicity and professions. (These bullet points all come from the ONS website, not from a White racist scumbag like me):
in 2018, 21% of workers in the UK were in 'professional' jobs – the highest percentage out of all types of occupation
33% of workers from the Indian ethnic group were in 'professional' jobs, the highest percentage out of all ethnic groups in this role
11% of both Indian and White British workers were in 'manager, director or senior official' jobs, the highest percentage out of all ethnic groups in this role
10% of workers were in 'elementary jobs' – the lowest skilled type of occupation – was highest in the Black (16%) and White Other (15%) ethnic groups
the combined Pakistani and Bangladeshi ethnic group had the lowest percentage of workers in 'professional' jobs (18%)
41% of workers from the combined Pakistani and Bangladeshi ethnic group were in the 3 least skilled types of occupation ('elementary', 'sales and consumer services' and 'process, plants and machine operatives' jobs), up from 38% in 2017
18% of Black workers were in 'caring, leisure and other services' jobs, the highest percentage out of all ethnic groups
the Black ethnic group had the lowest percentage of workers in 'manager, director or senior official' jobs (5%)
You'll find lots of interesting charts showing the admirably high performance of Hindu Indians and the shockingly low performance of British Blacks on the ONS website at:
https://www.ethnicity-facts-figures.service.gov.uk/work-pay-and-benefits/employment/employment-by-occupation/latest
But here are just a few charts from other sources which could seem to pose the question – "If we Whities control everything and are all neanderthal racists, how come Indian Hindus are so successful in both the UK and US (consistently outperforming Whites) whereas Blacks seem to be one of the lowest performing ethnic groups?"
Here are average hourly wages in the UK by ethnic group: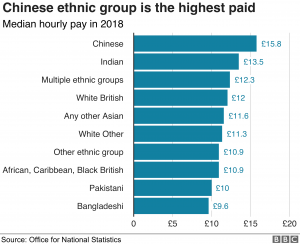 You'll see that there are three groups which outperform White British. And you'll see which groups perform worst. I obviously cannot comment on official government statistics as to comment would be 'waaacciiisssttt'.
Or how about the USA? Here are the percentage of each ethnic group by job type: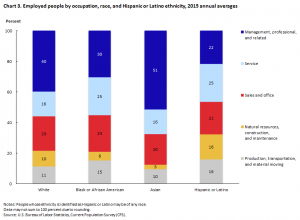 (to see the chart more clearly left-click on it once, wait till the image comes up and then left-click again)
Oh dear. You'll see that the group with the greatest percentage in managerial jobs in the USA come from the Asian community (51%), not from white Americans (40%).
And finally, here are US women's annual earnings compared to white men's
I rest my case.
And as for the BLM protesting idiots – please take your BLM placards and insert them as forcibly as possible into that special place where the sun doesn't shine.
As for me, I won't be 'taking the knee'!
Why aren't Indian Hindus protesting?
Apparently the useless Met police have released pictures of 35 people they want to question in connection with violence at the BLM protests: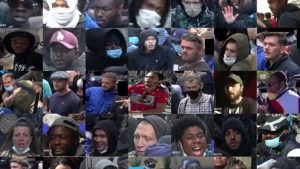 As far as I can see, there are Whites and Blacks but no Indian Hindus. I wonder why not? Perhaps the Indian Hindus had better things to do like looking after their families, doing their jobs or studying to improve their lives rather than smashing up our cities in anger at non-existent supposed 'institutional racism'?
I am a white man and I'm sorry…
And to cheer us up a bit, here's comedian Dominic Frisby apologising for the worst sin of all – being a white male: