(Wednesday/Thursday blog)
I almost threw up watching BBC Breakfast on Tuesday.
The first vomit-inducing story was a virtual beatification of the repulsive, dangerous, violent, druggie, criminal scumbag George Floyd. Interview after interview with his friends and family described him as a wonderful person, a 'gentle giant' who loved his mom, was a great father (to the family he abandoned!), always helped old ladies cross the road (when he wasn't mugging them) etc etc. No mention at all was made of his extensive criminal record especially of the time when he held a loaded pistol to a pregnant woman's stomach in a house he had broken into to force her to hand over all her money and jewelry.
Next we had Raheem Sterling. He's a footballer who is paid between £300,000 and £350,000 a week (over £15m a year). From what I could see he was complaining about how he had always been a victim of racism. Yeah, right Raheem. You're getting over £300,000 a week and you're making out you're a victim. Sounds like you have a pretty tough life (not)
And then there was someone called Jamelia. She's apparently a multi-millionaire black singer. She was interviewed for almost 20 minutes about the terrible racism she had suffered throughout her life. Yeah right multi-millionaire Jamelia. Sounds like you really had a tough time, just like multi-millionaire Raheem.
Wherever you look in the media, the 'BAME blame game' is the dominant story and the people being blamed for the many problems in some BAME communities are, of course, us nasty, racist whities
What about Afro-American culture?
Hey, I've got an idea. Let's look at a few charts. We'll start in the USA where all the recent Black Lives Matter looting, murder and mayhem started.
Here's a chart of the percentage of children in the US by race born into single-parent families from 1940 to 2010 by main racial group:
By 2014-18, the share of families headed by single parents had risen to 75% among African American families, 58% among Hispanic families, 37% among white families and 21% among Asian families.
Or how about this one? It's the proportion of US children born out of wedlock: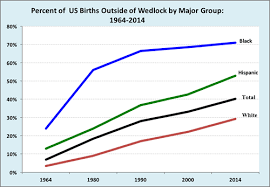 I find the above figures both eye-opening and truly shocking. And, of course they're never mentioned by the people playing the BAME blame game who keep screaming that Afro-Americans are victims of poverty and poor education and lack of opportunity and racism etc etc etc.
I ain't no sociologist. But I wonder if some of the underachievement of African Americans has nothing at all to do with slavery or racism or whatever and everything to do with the total breakdown of the traditional family structure? Single-parent families are likely to be more economically-disadvantaged that two-parent families. Moreover, having usually no father has left far too many African American children without a father role model and without parental guidance and control.
Could it be the fact that over 75% of African Americans are born into single-parent households, rather than supposed racism, which has created a massive, too often criminal Afro-American underclass?
Meanwhile back in Britain
The proportion of single parent families in the UK is much lower than in the US.
The single parent statistics published on the gov.uk site in 2019 show what percentage of different ethnic groups were lone parents according to the 2011 census. Within each ethnic group monitored, the percentage of family types which are single parents are as follows: black (24%), mixed (19%), 'other' and white (both 10%) and Asian (8%).
But there's another possibly interesting chart published by the Office for National Statistics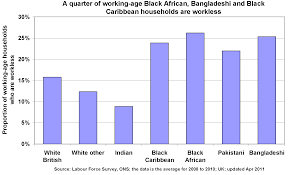 This shows the proportion of households by ethnic group which are 'workless'. You'll notice that the lowest number are in Indian (probably mostly Hindu) households. You'll also see which ethnic groups and religion have the highest number of workless households. For obvious reasons I will not comment on those as that would be 'racist'.
But if we're really all ghastly 'racists' in Britain, it's rather odd that Indian families seem to be much more successful than even white British families. A cynic might even conclude that the failure of certain ethnic or religious groups has nothing at all to do with supposed racism and everything to do with different cultures. A cynic might even conclude that Hindu families have a strong work ethic, a strong belief in the value of education and a strong belief that female children should have the same education and life chances as males. A cynic might even conclude that the relative failure in Britain of blacks and our friends from our favourite religion compared to British Indian Hindus has nothing to do with racism and everything to do with culture.
Then there's one more chart readers might find interesting. It shows the percentage of males and females from each ethnic group who go to university:
(If you left-click on the chart once, wait a few seconds and then left-click again, it becomes huge and blindingly legible. The red bars are for children from deprived backgrounds – defined as receiving free school meals (FSM). The blue bars are for children from non-deprived households)
This shows that starting at the most likely to go on to higher education are:
Asian females
Black females
Mixed-race females
Asian males
White females
Asian females from deprived backgrounds
Black females from deprived backgrounds
Black males
Mixed-race males
White males
Black males from a deprived background
Asian males from a deprived background
Mixed-race females from a deprived background
Mixed-race males from a deprived background
White females from a deprived background
White males from a deprived background
So there are four ethnic/sex groups more likely to go on to higher education than white females and nine ethnic/sex groups more likely to go on to higher education than white males. Moreover, Asian females from deprived backgrounds and black females from deprived backgrounds are more likely to go to university than black males from non-deprived backgrounds. There are other interesting conclusions you can draw from this chart yourselves.
Perhaps all the idiotic, West-hating, fascist, ignorant, mutton-headed twats from Black Lives Matter and those 'taking the knee' could explain how so many more people from different ethnic groups than white ethnic Brits in Britain are going on to higher education if we're all Klu Klux Klan, BNP mouth-frothing racists and all BAME people in Britain are horrifically oppressed?
A far as I can see from the two UK-based charts above, we've made so many efforts to help BAME people in Britain – even those from deprived backgrounds – that they're now starting to outperform white ethnic British.
Sorry Raheem and Jamelia and Victoria Macdonald from BBC News and all the other BBC and C4 News presenters and all the Black Lives Matter brain-washed ass-holes who protest about anything they can find to be offended by. But I can't see the terrible supposed racism you're trying to foist upon us.
I don't buy the story that BAME communities are victims of racism. It's just another fraud like supposed Man-Made Climate Change.
Roger Daltrey once sang "we won't be fooled again". Unfortunately, subjected to a mainstream media barrage of self-hate, it seems too many white British will be fooled again: