(Wednesday blog)
You won't see this story on the sinophiliac BBC (Beijing Broadcasting Corporation?) nor on the West-hating C4 News (which I guess now stands for China 4 News?). But it's possibly quite important as it reveals how powerful China has actually become and how impotent our rulers are because we have become so dependent on the Chinese Communist Party.
Will the Australians grovel to China?
You may be aware that Scott Morrison's government in Australia has been calling for an international investigation into the origin of the Chinese Covid-19 plague. This initiative has clearly upset the corrupt, lying, dirty, disease-ridden Chinese.
At the end of April a leading Chinese state media editor (basically the Chinese Communist Party) wrote "Australia is always there, making trouble. It is a bit like chewing gum stuck on the sole of China's shoes. Sometimes you have to find a stone to rub it off". That's pretty insulting stuff from one country to another.
But as the Australian Government refused to back off from its demands for an international inquiry into the source of the Chinese Covid-19 plague, the dirty, corrupt, lying, disease-ridden Chinese have moved from insults to action. First the Chinese Communist Party threatened to put an 80% tariff on all barley products from Australia. And now the Chinese Communist Party has banned all beef imports from four major Australian abattoirs – about 35% of all Australian beef exports to China – supposedly due to labelling and hygiene concerns.
Yup, rat-eating, bat-eating, toad-munching, bird-saliva-guzzling, filthy Chinese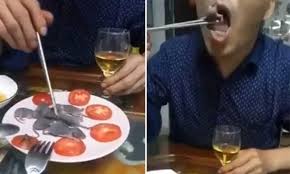 are accusing Australian meat producers of poor hygiene. You couldn't make it up.
We don't yet know how the Australians will react. While some Australians are outraged at China's bullying, many Australians (including several billionaires who have become monumentally rich by exporting food and raw materials to China) are pressuring the Australian Government to back down and grovel to the bat-and-rat-munchers.
The lickspittle EU grovels
In the last two weeks, the EU was similarly threatened by the lying, dirty, corrupt, disease-ridden Chinese. An EU report into the Chinese Communist Party's handling of the Chinese Covid-19 plague had to be censored to remove passages to which the Chinese objected. Then in an op-ed published in China to mark 45 years of EU-China relations, a reference to the coronavirus originating in China was removed at Beijing's command.
China issues the orders. The EU obeys.
As for the UK – we are now so dependent on China that our leaders prostrate themselves before the Chinese in the hope of getting a post-Brexit trade deal.
My advice – your children and grandchildren had better start learning Chinese so they can ingratiate themselves with our new conquerors
Thank heavens for Sky News Australia
As usual Sky News Australia is the only media outlet where we can get a balanced version of this story: