(Monday blog)
This year over 600,000 innocent Brits will die.
That's over 12,000 a week – more than one every single minute!
This isn't healthcare! This is mass murder!
I'm getting more than fed up with sensationalist, scaremongering, idiotic reporting. IT DOES NOT HELP!!! It merely turns otherwise intelligent, educated people into the pitch-fork wielding mob demanding ridiculously extreme measures – like shutting down the economy for several more weeks or months – supposedly to  save lives. But this is only guaranteed to make other unintended consequences of those measures far worse than the problem itself.
Yesterday, the Sunday Times's leading story was that a too rapid exit from the lockdown could lead to 100,000 deaths. Oooooh. Pretty frightening, huh? Of course, it's meant to be. Such sensationalist crap sells newspapers and works as excellent 'click-bait'. Then the Sunday Times can count the number of online readers who click on the story and use that to charge more from advertisers.
The Sunday Times even had a supposed 'reader survey' which asked – "should the government protect lives or protect the economy?"
I absolutely guarantee that there will be more than 600,000 deaths in the UK this year. I bet you all the money I haven't got that I am correct in this. Moreover, I don't need a poorly conceived, poorly-developed and poorly-managed mathematical software model produced by a self-important, media-hungry bonking boffin, Professor Penis, to prove this. My 600,000 deaths, are the deaths we naturally expect to occur given our usual average annual UK deaths plus a few more – perhaps 5% more – from the Chinese Covid-19 plague.
Here's a (hopefully readable) chart of the average number of deaths in the UK by week: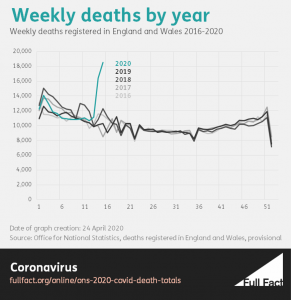 So in an average year, deaths go from about 14,000 a week in the winter to about 10,000 a week in the summer. And this year, of course, there is a rise in deaths due to the Chinese Covid-19 plague. The rise seems to have hit 6,000 a week at the highest point before starting to fall: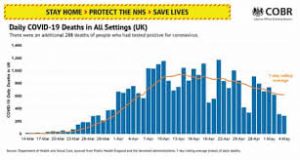 This year there will probably be 60,000 or so deaths attributed to Covid-19 – an increase of about 10% on the usual annual average. But of the Covid-19 deaths about 90% will have serious underlying health problems and thus limited life expectancy. Plus we must take into account that the median age of death is 80 which means that half the deaths will occur in people over 80. Life expectancy in the UK is around 81. So, while careerist journalists hyperventilate about 60,000 Covid-19 deaths, the real figure for excess deaths will probably be closer to 30,000 – a mere 5% increase on the usual average number of annual UK deaths.
But you won't find many journalists keen to put the Covid-19 deaths into context as just a 5% increase in deaths.
Moreover, many of the UK's Covid-19 deaths are self-inflicted and unnecessary. They were caused by the NHS turfing about 15,000 NHS patients out of hospital into self-isolation or care homes without testing them for Covid-19 in order to free up hospital beds for the expected Covid-19 victims. Many of those needing the freed-up hospital beds turned out to be the very patients who had been sent into care homes from hospitals in the first place – but only after infecting a few other people in the care homes into which they were dumped!
Of course, if somebody dared suggest – "calm down Covid-19 will only increase UK deaths by about 5% so let's get the economy moving again" – there would be howls of froth-flecked rage from the hordes of perma-offended out there who will scream, "are you saying my granny is expendable?" and "you're putting money before my granddad's life and he fought in the war".
There are an average of 200,000 abortions just in England and Wales each year:
Nobody seems to care about that! We don't see many journalists screaming about almost 4,000 human beings being slaughtered every week in hospitals and clinics.
Of course, the Chinese Covid-19 plague is a crisis. Of course, we mustn't end up in the situation of Italy and Spain where people were dying because the healthcare systems were overloaded. But we need to keep Covid-19 in perspective. We need to analyse the situation calmly and unemotionally. We absolutely MUST reopen the economy and very soon. Our grandparents and ancestors before that would be baffled by the degree of panic and fear that we have unleashed. After all they lived their whole lives side by side with diseases and wars with far higher death rates!
The risk for the vast majority of the population of suffering serious consequences from catching coronavirus are less than one in a million.
Time to get back to work. Time to re-open the economy.