(Monday blog)
OMG! OMG! OMG! What to say? When even the royalty-obsessed Daily Mail and Mail on Sunday turn against the royal family, you know things are really bad.
I'm afraid my stomach wasn't strong enough to watch the supposedly 'no holds barred' interview done by Emily Maitlis with Prince Andrew. But I picked up a few impressions from the press reports.
I had been expecting Maitlis to 'do a Chakrabarti'. I've no idea (having not watched the interview) whether she was as 'forensic' and brutal with Andrew as she usually is on TV with anyone daring to suggest we leave the EU (constantly interrupting them and shouting them down) or whether Maitlis was grovellingly sycophantic. From the little I could stomach, I felt she did treat Andrew rather deferentially. But Andrew is (IMHO) such an arrogant, brainless, clueless, spoilt, self-opiniated, dumbassed  clod that he managed to repeatedly incriminate himself despite Maitlis's kid-gloves treatment of him. I doubt Maitlis will be joining Dame Shami 'Shameless' Chakrabarti in the Lords, honoured (IMHO) for her services to the whitewash industry.
Maybe these are some of Prince Andrew's greatest hits from his motorway pile-up interview:
Firstly, the reason our noble Prince stuck with Epstein, even after Epstein's conviction, was because Prince Andrew was too honourable: "I admit fully my judgment was probably coloured by my tendency to be too honourable".
Secondly, I did see a very brief excerpt from the interview on the Internet. Looking at Prince A's body language one might notice he blinks quite a bit when claiming he doesn't remember the girl he is alleged to have had sex with when she was 17-years-old. From a guide to reading body language here's a possible explanation: "Blinking is a neat natural process whereby the eyelids wipe the eyes clean, much as a windscreen wiper on a car. Blink rate tends to increase when people are thinking more or are feeling stressed. This can be an indication of lying as the liar has to keep thinking about what they are saying"
Thirdly, if I have understood correctly the great Prince suggested that the photo of him with his arm around the girl's waist might have been faked as it was 'taken upstairs' at Ms Maxwell's London house and Andrew had, he claimed, never been upstairs there. But, if he had never been upstairs, how did he know the photo had been taken upstairs? Oooops!
You might be wondering why Prince Andrew became one of Epstein's friends in the first place. If I remember correctly, Epstein started his career as a Maths teacher in a New York school. He was noticed by the father of one of his students and offered a job on Wall Street. Due to his mathematical genius he managed to amass a huge fortune and move into the top levels of society.
Given Prince Andrew's well-known reputation as an intellectual colossus, it's quite clear to me that Andrew and Epstein became friends due to their shared interest in discussing complex mathematical concepts rather than Epstein's ability to provide an almost limitless number of recently pubescent females for his own and his friends' pleasure. Here's that well-known picture of Andrew and Epstein discussing mathematics where our great Prince is explaining some complicated mathematical theorem to an obviously impressed Epstein: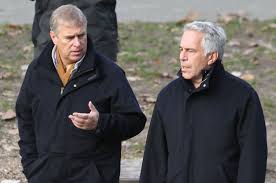 After his success on TV on Saturday evening, I rather suspect Prince Andrew will be reducing his public appearances and spending more time with his golf clubs and less time representing once great Britain.
But while the British media still tiptoe around Randy Andy's alleged cavorting at Mr Epstein's many young-female-stuffed residences around the world, the Australian press has not been quite so forgiving: