(Tuesday blog)
Today is a really hard time to be a young person
Monday evenings are usually my TV-watching evening. There's C4's Dispatches at 20.00h and then BBC1's Panorama at 20.30h. Of course, both programmes are usually total politically-correct bollox usually blaming white colonialism or Brexit or Farage or Trump or suchlike for all the world's problems.
But yesterday evening, my bollox-meter dial went way off the normal scale while watching C4's Dispatches. The Dispatches presenter – a woman of colour of course – claimed that "Today is a really hard time to be a young person"; that "68% of young people have had a mental health problem" and that severe underfunding of the NHS meant that these poor young people with supposed mental health problems weren't getting the treatment they needed.
I'm left almost speechless by the utter stupidity of the whole programme. What about young people in Medieval times when half the children died from diseases that are easily treated nowadays? What about young people growing up during the Victorian industrialisation who were sent to work in mines and factories aged around 9 or 10? What about the young people who were sent off to the trenches in WWI at the age of 18 or 19? What about the young people who had to defend Britain against the German war machine in WWII?
It seems to me that young people "have never had it so good". When I was young less than 10% of people went to 'Uni', now half of all young people can idle away three years at Uni by taking loans they'll never earn enough to have to pay back to the taxpayer (to pay back a student loan in full, you'd have to be getting over £35,000 a year in your first job after Uni). And……….Oh, I give up. If people can't see that today's young have a better life than any generation before them, then there's no point trying to convince them
Boris calls out police chiefs' bluff
For years our useless, politically-correct, diversity-obsessed police bosses have assured us that rising crime is due to a 20,000 drop in the number of police officers. So now Boris Johnson has called their bluff and told them his government will fund the recruitment and employment of 20,000 more police officers over the next three years. Are the police chiefs happy? No way. Now they're complaining that this is not enough and that they'll need even more money and that crime is changing and etc etc etc.
One particular complaint the police chiefs have come up with is that they're having difficulty recruiting people of the right calibre because Millennials don't have the right strength of character to become effective serving police officers. I don't buy this argument. I'd like to suggest that our police chiefs are responsible for their own recruitment problems, mainly because they've excluded more than half the population from their recruitment pool. How have they done this stupidity? By insisting that all police recruits have university degrees. Old-fashioned idiots like myself might believe that being street-wise and knowing the local community were more important than a third-rate degree from a fourth-rate university. But not our police chiefs. Bloody idiots!!!!!
In fact, our police bosses are just as stupid as our NHS bosses who now demand all nurses have a university degree. Result – shortage of good nurses and collapse in the standards of patient care.
Time for an identity parade?
You've probably all seen the short video below of a lady dressed as Darth Vader on a bad hair day abusing a gay rights pride LBGTQ+++ marcher. Had this been a tattooed white person doing the abuse, they'd be arrested and charged with a hate crime and public disorder and anything else the plods could think of. But because it was a Darth Vader lookalike, no action was taken.
However, now that the video has gone viral, the police claim to be investigating. So, how are they going to find the woman? Through an identity parade?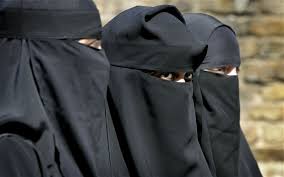 Aaaaarrrgghhh – the world has gone mad