(Friday blog)
F*ck You Greta!
Here's a link to the German Amazon website:
https://www.amazon.de/geplotteter-Aufkleber-Autoaufkleber-Fahrverbot-Motorrad/dp/B07TD9Z95S
The best-selling "auto-aufkleber" (car sticker) in Germany is one that says "Fuck You Greta". Apparently many German drivers don't respect the views of that great climate scientist Greta Thunberg. Here's Greta lecturing to an admiring audience in London: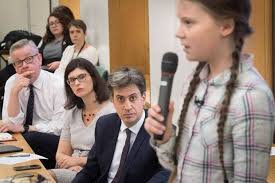 In the audience is Ed Miliband the person responsible for the Climate Change Act – the stupidest and most economically-destructive piece of legislation ever passed by the House of Conmen (and Conwomen)
Oh look, Michael Gove is there too. If he hangs on as Environment Secretary, no doubt he'll dream up something even stupider than Miliband Junior's idiocy and what little is left of British industry will move to China. Then we can borrow ever more money to buy crap from China that used to be made in Britain. And when we can't borrow any more, we'll just sell our ports, airports, power stations, agricultural land etc etc to Chinese companies (as so many other Third-World countries have done) so that we can keep on buying Made in China crap.
I have previously featured a lovely photo of the wonderful Greta with our very own (IMHO) increasingly crazed naturalist Sir David Attenborough:
Or Lord Attenborough of Glastonbury as he might one day be known: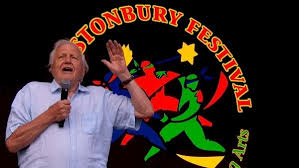 Glastonbury seems to have a habit of inviting (IMHO) increasingly senile old fools to grovel to the teeming masses of admiring, libtard-indoctrinated, braindead snowflakes: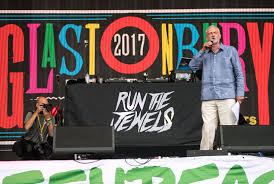 Oh, and here are a couple of members of the Adams Family: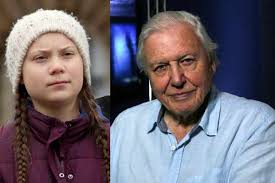 BBC pay scandal: year after year repeat, repeat, repeat
Every year the BBC brings us a repeat – the pay scandal. Every year the BBC keeps increasing the pay of its so-called "talent" (and its managers). And every year the BBC bleats that it's forced to pay so much otherwise all this talent would decamp to commercial TV stations. I don't know who would want all the over-paid, over-pensioned BBC managers.
Here to cheer us up before the weekend is LBC's Nick Ferrari wondering why we have to give the BBC so much money for repeat after repeat after repeat: