(Monday blog)
I came across this 'infographic' published by the Office for National Statistics
https://assets.publishing.service.gov.uk/government/uploads/system/uploads/attachment_data/file/663376/race-cjs-2016-infographic.pdf
The clear message from this 'infographic' seems to be that black people in Britain are four to five times more likely to commit criminal offences and be sent to prison than white people. Chinese Brits seem to have the lowest offending rates.
But I don't understand how this can be as we're constantly assured by our rulers and the BBC and C4 News that all races and cultures are equal. In fact, it's often suggested that white people are inferior to all the wonderfully vibrant other races who have invited themselves into our formerly drab, mono-cultural country
Does this mean that government statistics are waaacccisssst?
I wonder why our Office for National Statistics doesn't do what the Swedish authorities now do – conceal any information about the ethnic background of people committing crimes? In fact, it's now a criminal offence in Sweden to refer to the ethnic background of anyone committing a crime. For example, an artist in Sweden has been sent to prison for tweeting: "Rape culture is fundamental and OK among MENA [Middle East and North African] people."
No doubt, our rulers will look to Sweden with envy and soon bring in new 'race hate' laws here in Britain so that in our fabulous new Big Brother State anyone mentioning the ethnic background of criminals in Britain will also be deemed as committing a supposed 'hate crime' for telling the truth.
And publishing pictures like the one below (of mainly 'Asian' rape gangs) will incur prison sentences: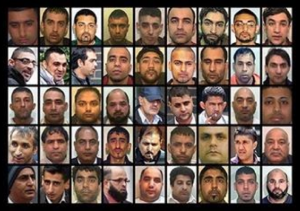 And for anyone who hasn't seen it, here's my short (3 minutes) video of "Khan's Bloodsoaked Streets of London". (Please send the link to your contacts if you've already seen it – the singer is incredible even if my graphics are pretty basic)
Strangely, most of those featured in the video seem to be from a multi-culturally enriching background. This fits in with the Office for National Statistics's 'infographic'.
What could this be telling us? That uncontrolled immigration and multi-culturalism aren't such great ideas? Surely not?