(Wednesday blog)
Welcome to Crapistan
Let's start with a nice picture: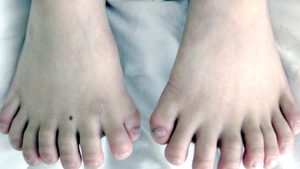 And here's some of the text that went with that picture:
Over 82.5% of parents in Pakistan are first cousins, 6.8% are blood relatives, 6.3% belong to the same caste and family, and only 4.4% are married out of their families.
A lot of international studies carried out in different parts of the world have also confirmed the hazards of consanguineous marriages and have suggested a comprehensive ban on cousin marriages across the globe. However in Pakistan, ignorance, caste superiority and complexes are main hurdles in the way of reducing the number of cousin marriages.
The study says that there is a 20 percent chance that the children can acquire a genetic problem. The data also shows that the infant mortality risk is higher (over 1.2%) in first-cousin marriages and in terms of birth defects, the risks rise from about 2% in the general population to 4% when the parents are closely related.
Talking to Pakistan Today, Dr Aslam Khan said a human being carries gene mutations which are recessive (hidden) and when families interbreed, these mutations could become dominant and may start showing more expression in the population. "But when a population has a small gene pool the gene mutation can become more frequent," he said, adding that in consanguineous marriage, disorders which include blindness, deafness, skin diseases, and neurodegenerative conditions become more common".
This all comes, not from some rabid Izlumophobe, but from the respected Pakistan Today newspaper.
Now let's move to Britain
While some babies born of first cousin marriages die soon after birth, of the inbred babies who do not die right away, a large number of them have so many physical and mental disabilities, that UK taxpayers are forced to bear the costs of caring for these genetic freaks for the rest of their lives.
Medical data previously suggested that while British Pakistanis were responsible for 3 per cent of all births, they accounted for 30 per cent of British children born with a genetic recessive disorder or illness. Muslim children in certain areas are 13 times more likely to be born with recessive genetic birth defects than non Muslims due to a tradition of arranged marriages with cousins: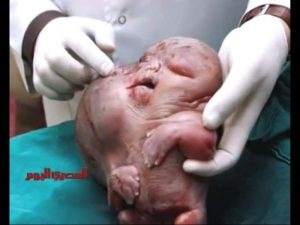 A BBC investigation in Britain several years ago revealed that at least 55% of the Pakistani community in Britain was married to a first cousin.
Medical evidence shows that one of the negative consequences of inbreeding is a 100 percent increase in the risk of stillbirths. One study comparing Norwegians and Pakistanis shows the risk that the child dies during labor increases by 50 percent. The risk of death due to autosomal recessive disorders — e.g., cystic fibrosis and spinal muscular atrophy — is 18 times higher.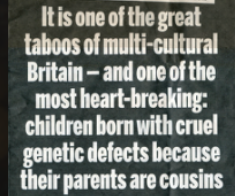 Risk of death due to malformations is 10 times higher. Mental health is also at risk: the probability of depression is higher in communities where consanguine marriages are also high. The closer the blood relative, the higher the risk of mental and physical retardation and schizophrenic illness.
And then there are the findings on intelligence. Research shows that if one's parents are cousins, intelligence goes down 10-16 IQ points. The risk of having an IQ lower than 70 (criterion for being "retarded") increases 400 percent among children from cousin marriages.
Multi-cultural impoverishment?
So, who is really wrecking the NHS and social services?
Is it old people who are living too long after working and paying taxes all their lives? Maybe? Or maybe old people are healthier than they have ever been and aren't as much a strain on the NHS and social services as the progressive liberal elites like to suggest?
Is it the morbidly obese? Observing some of the fat whales waddling around ASDA with their trollies full of crisps and burgers, one could see that they are certainly a burden. Though on my recent visits to hospital, the fattest people I saw were the hospital staff.
Or is everyone afraid to point the finger of blame where it really should be pointed – first-cousin marriages – because to mention that would be waaccissst, and Izlumophobic and divisive and supposed 'hate speech'?