(Tuesday blog)
Britain surrenders to the Religion of Peace
Somewhere in Crapistan, persecuted Christian Aasia Bibi is rotting away having been supposedly freed after 8 years condemned to death for supposedly 'insulting the prophet'.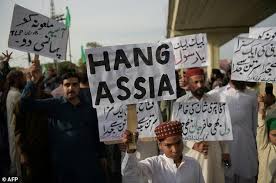 Whenever Third-world detritus wants to come to Britain, we're told we must accept them because of Britain's supposed 'historical links' to whatever sh*t-hole the often violent, often low-IQ, often illiterate, usually unemployable, usually West-hating, democracy-loathing people come from: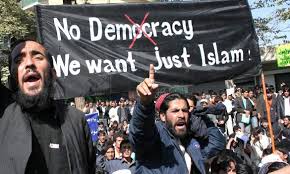 And there are plenty of virtue-signalling, braindead snowflakes who'll demand we take in whatever human and subhuman garbage that washes up on our shores: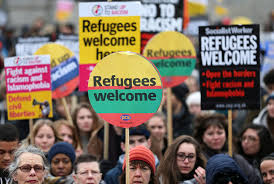 But when a Christian gets into a bit of trouble, our surrender to the Religion of Peace is so comprehensive that our Religion of Peace Home Secretary refuses to give this Christian asylum in Britain. As for the virtue-signalling, braindead snowflakes, I haven't heard many of them demanding we give asylum to Crapistani Christian Aasia Bibi. In fact, I suspect the progressive lefties (and our Home Secretary) hope that Aasia Bibi is killed as soon as possible as she's an embarrassment to them because her very existence exposes their hypocrisy and their hatred of Western civilisation.
Here are a couple of other examples of Britain's surrender to the Religion of Wonderfulness:
Legal aid:
January 1. Four British jihadis, sentenced to life in prison for planning a major terror attack in Birmingham, received nearly £800,000 (€900,000; $1 million) in taxpayer-funded legal aid to cover their failed defense, according to information obtained through a freedom of information request. Khobaib Hussain, 25, Naweed Ali, 30, Mohibur Rahman, 33, and Tahir Aziz, 38, received £790,485 to pay for lawyers. Some £635,822 went to the trial lawyers; each of the defendants was represented by a Queen's Counsel and junior barrister. The billing process is not yet complete; the final figure likely to be higher.
We keep being told that legal aid budgets are being cut. But I guess this just applies to taxpaying, white indigenous Brits. If you're a multi-cultural enricher, you can apparently have as much legal aid as you want.
Social care:
Another budget that is being cut is that for social care. So, many of Britain's elderly are being left to rot without proper support in spite of having worked and paid taxes for most of their lives. But if you're a 25- to 35-year-old multi-cultural enricher pretending to be just 16 or 17 years old, there's plenty of money available for you.
January 3. Each lone child migrant in Britain costs taxpayers nearly £70,000 a year — £67,634 — according to the Association of Directors of Children's Services. Expenses include £50,716 for residential placement and linked care costs, £4,805 for education, £3,915 for healthcare and £3,826 for social workers. For each lone child migrant, councils also typically pay £440 for interpreters and child advocates, £480 for English language lessons, £70 for dentists and £20 for doctor registration. Home Office statistics show that there are currently at least 4,500 unaccompanied youngsters seeking asylum in Britain — and costing taxpayers more than £300 million a year. Town halls are legally responsible for all costs associated with each child under their care until they are 25.
https://www.gatestoneinstitute.org/13494/britain-multiculturalism-transformation
Who rules Britain?
But if you dare criticise the preferential treatment of multi-cultural enrichers compared to the way taxpaying Brits are treated/neglected, then you're immediately branded as a racist and bigot and a Nazi and a fascist and worse.
They say that you can find out who really rules you by finding out who you are not allowed to criticise. We are not allowed to criticise anyone or anything from the Religion of Total Peacefulness. I think that tells us all we really need to know about who really rules Britain: