(weekend blog)
This may be one of my most important blogs in all my years of blogging in the (usually vain) hope that more than 3% of readers might show some support by buying my books
The UN report nobody dares mention?
Try claiming to anyone that our rulers are implementing a deliberate policy of diluting and then replacing the ethnic white populations of advanced countries with Third-Worlders and you'll be dismissed as a crank and as a right-wing, racist conspiracy theorist.
So, please let me draw your attention to this United Nations report from April 2000. It's called "Replacement Migration: Is it a Solution to Declining and Ageing Populations?"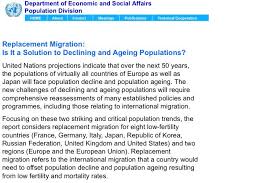 Its publication was proudly announced in several press releases by the United Nations: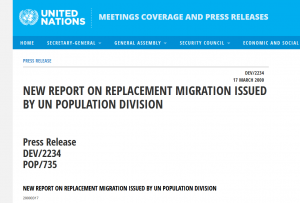 But, as the issue of mass migration has become ever more politically sensitive, many of the links to this document and the press releases have mysteriously disappeared.
Here's what the report covers:
United Nations projections indicate that over the next 50 years, the populations of virtually all countries of Europe as well as Japan will face population decline and population ageing. The new challenges of declining and ageing populations will require comprehensive reassessments of many established policies and programmes, including those relating to international migration.
Focusing on these two striking and critical population trends, the report considers replacement migration for eight low-fertility countries (France, Germany, Italy, Japan, Republic of Korea, Russian Federation, United Kingdom and United States) and two regions (Europe and the European Union). Replacement migration refers to the international migration that a country would need to offset population decline and population ageing resulting from low fertility and mortality rates
The report looks at various scenarios for repopulating the West (including Japan and the USA). To give an idea of the future that is being planned for us, one of the mid-level scenarios suggests the following levels of immigration in total for the years 2000 to 2050:
Germany – 40 million; Italy – 35 million; the EU – 153 million; Europe in total – 235 million.
The USA and the UK get off quite lightly in this total catastrophe with the USA scheduled for 44 million (because the US has already been so thoroughly enriched by migrants and criminal gangs from Latin America) and the UK getting a mere 13 million (I guess because we have so many multi-cultural enrichers here already busy raping, robbing and murdering while getting benefits, free housing, free healthcare, free everything).
Ooops! Did the biased, lefty idiots at the BBC and the overpaid buffoons at C4 News – Jon Snow, Kathy Newman and Krishnan Whatever – forget to tell you about the UN's plan for dilution and then replacement of the white population? What a surprise!
Here's a link to the report (just to prove it exists):
http://www.un.org/en/development/desa/population/publications/ageing/replacement-migration.shtml
And here's a link to the executive summary (just to prove that the numbers of migrants to come to each country are not something I've made up):
http://www.un.org/en/development/desa/population/publications/pdf/ageing/replacement-es.pdf
You were right all along
So, I hope this reassures you. If you suspected that our rulers have a deliberate plan to dilute and then ultimately replace the ethnic white populations in advanced Western countries, you weren't mad, you weren't a conspiracy theorist and you weren't even a waaacciiiisssstttt.
You just spotted a truth that other people either haven't seen or blindly refuse to recognise.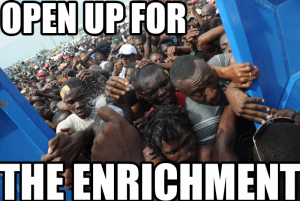 (And, by the way, I suspect that Merkel's decision to flood Europe with often illiterate, often violent, often low-IQ, often unemployable, usually parasitic, worthless Third-Worlders was actually part of her personal career ambition to become the next UN Secretary General when she's pushed out of German politics. Remember, when it happens, you read it here first)
Have a good weekend!