(Monday blog)
Today's blog will be short, but maybe not sweet.
There's lots of heat and noise being generated about Brexit and the EU. One of the main arguments put forward for leaving the EU is that it's developing into an undemocratic, German-controlled superstate, run by an unelected, corrupt, self-serving hereditary bureaucratic elite. And being part of such a venture doesn't fit with British ideals of freedom, sovereignty and independence.
Of course, the Europhiliacs and traitors like Blair and Clegg and most leading politicians and businesspeople and Europhiliac, UK-Hating celebs and others of their ilk constantly deny that the EU's ambitions are to wipe out national borders and subject us all to a German-run Brussels bureaucracy – basically a Fourth Reich
Rather than me rehashing opinions and prejudices from pro- and anti-EU commentators, it might be more useful for us to look at what the EU itself claims it is up to.
Here's a plaque in the EU visitors' centre:
Not much ambiguity there about the EU's intentions!
And here's one in the EU parliament building: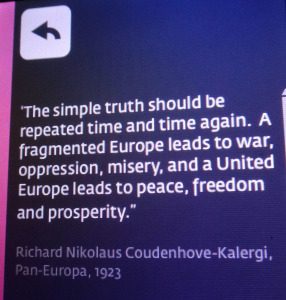 Even less ambiguity there about the EU's plans for us!
Is there any doubt now about where the EU is headed?
Is there any doubt now that the EU elites see their mission as the abolition of countries, borders and national identities and their replacement by a 'European' identity?
Is there any doubt now that importing millions of Third-World parasitic garbage is part of the EU's plan to erase any trace of national identity?
Is there any doubt now that we need to get out of this dystopian nightmare?