(Thursday blog)
Africa rising?
As we all know, Africa is a complete hell-hole and pretty much all African countries are corrupt, worthless, impoverished sh*tholes. Moreover, in spite of the $250bn in development aid money that has been given to Africa since the mid-1960s, there are still not many signs of all the water wells and roads and hospitals and electricity plants and schools and suchlike that we in the West have paid for many times over. Yet most of Africa's rulers have become billionaires.
Waacissts have suggested that the main reason for Africa's failure to grow is the low IQ of its citizens. Furthermore such horrible people have suggested there is a link between a country's average IQ and its economic success: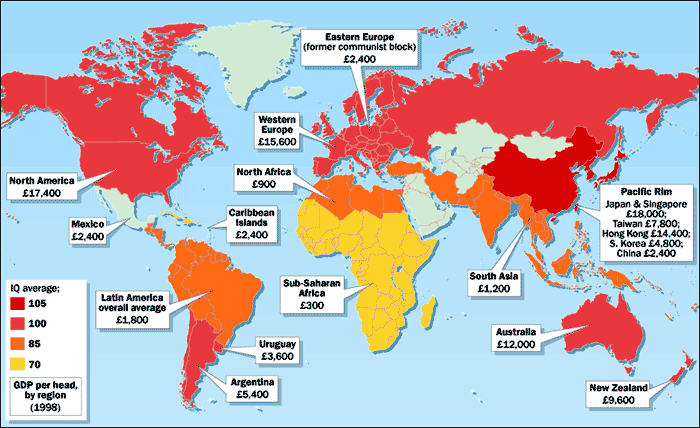 But, of course, political correctness prevents any discussion of this.
However one aspect of Africa is seeing growth – the African population:
And where are all these new Africans going to live? Well, they can't live in their own poverty-stricken excrement-covered, sewer-countries. So, naturally they'll be headed for Europe: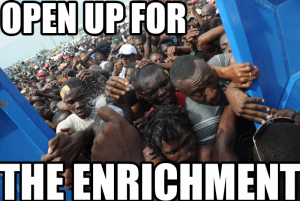 And they'll be bringing with them all their wonderful practices which I dare not mention here.
(The Religion of) Peace comes to Mozambique
Like me, you probably don't know where Mozambique is. And like me, you probably don't care:
Anyway, Peace has recently come to Mozambique. Unfortunately this "Peace" is not real peace, it's the Religion of Peace.
Mozambique gained independence from Portugal in 1975 and then had the usual African civil war. In Mozambique this civil war lasted from pretty much the day after independence till 1992. Obviously, a 16-year civil war isn't great for economic development and more than half of Mozambique's 24 million people continue to live below the poverty line.
But do not despair. The future for Mozambique looks bright. The discovery of gas fields off Mozambique's coast in 2011 is set to transform the economy of one of Africa's poorest nations.
At least, that was the situation until October 2017 when the first Izlumist attacks started with a raid on a police station and a military outpost. Over the last year, more than 50 people have been killed in gun, grenade and knife assaults in the growing jihadist insurgency, with the militants reportedly seeking to impose Sharia law in one of the country's Muslim-majority provinces. In the latest major attack, 12 villagers were killed and 14 wounded two weeks ago.
The scenario is starting to look depressingly similar to every other African country when (the Religion of) Peace comes to enrich the populace.
While Mozambique's Christians are slaughtered in increasing numbers, the West's Izlumophiliac leaders and our Izlumophiliac Pope will say nothing.
But if (like the Buddhists in Myanmar) the majority Christians decide that enough is enough and start chucking out the Moozerlums, then we'll hear the usual howls of "Izlumophobia" from the BBC and C4 News and queues of the West's progressive, liberal, globalist, rapefugee-hugging political leaders.
It's all so predictable.
That's what always seems to happen when (the Religion of) Peace comes to town,