(Wednesday blog)
The UN is working on producing something called the Human Development Index (HDI). The HDI classes countries according to quality of life factors such as healthcare, education, employment, housing, crime levels etc.
One group of countries in the UN HDI are those considered to have a very high HDI. You can see a list of those countries here:
http://www.wiki30.com/wa?s=List_of_countries_by_future_Human_Development_Index_projections_of_the_United_Nations
This list shows the actual positions for countries in 2010 and 2015 and the projected positions of those countries in 2020, 2025 and 2030. Most countries stay at around the same position in each of the lists. But there are two glaring exceptions: Sweden and Belgium.
Here's Sweden's position: 2010 – 15, 2015 – 25, 2020 – 25, 2025 – 36, 2030 – 45
And Belgium's position: 2010 – 17, 2015 – 24, 2020 – 24, 2025 – 31, 2030 – 40
Here's the bottom part of the HDI list for countries with a high HDI in 2030. Sweden, once wealthy, developed, civilised, peaceful, successful Sweden is forecast to provide a lower quality of life for its citizens than countries like Cuba, Argentina, Mexico and Libya:
I wonder if the dopey, lefty, rapefugee-loving Swedes are aware of their bright future?
Of course, this is just a forecast, but it's telling us something.
So, what do Sweden and Belgium have in common? Ummm, well. I can only think of one thing – they both have massive and rapidly increasing immigrant populations, they both have large areas of their main cities that are filthy, violent, sh*t-hole Third-World no-go areas.
This gives me an excuse to show some Swedish totty:
And the reality Swedes now have to face:
This is quite ironic really. On the one hand, the virtue-signalling, progressive, libtard UN is forever preaching to us that we need more immigration and more multi-cultural enrichment: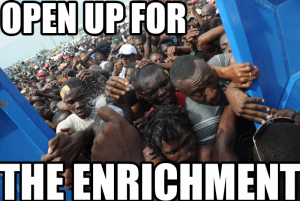 Yet, on the other hand, the UN's own figures are telling us that the higher immigration is to a country, the lower will be the quality of life in that country.
As for the stupid, cowardly Swedes and Belgians they keep voting for ever more diversity and ever more multi-cultural enrichment. So they're getting what they wanted – the transformation of their countries into Third-World hell-holes: