(Thursday/Friday blog)
You'll all have seen pictures of the usual lefty, libtard, progressive, snowflakes proudly marching with their "Refugees Welcome" banners: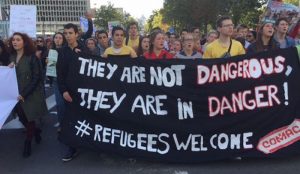 But have you ever wondered? Have you ever wondered how anyone could be so stupid as to welcome these people? Have you wondered how Europeans, especially women, can welcome the rapefugees:
After all, women will be the main victims of mass migration:
     PICTURES OF DEAD RAPED EUROPEAN WOMEN
CENSORED BY THE THOUGHT POLICE
We used to be taught that all snowflakes are unique and different. But actually, I think they're all the same.
Anyway, have you ever wondered how to make a lefty, libtard, progressive snowflake?
Not being a snowflake, you might suspect that:
Most of these supposed 'refugees' are just illegal immigrants
Most of the 'unaccompanied children' are actually in their mid to late twenties
Most (according to scientific evidence) have an IQ level that is too low for them to function in an advanced Western society
Most are backward, illiterate, unemployable violent parasites who will live off welfare and criminality
We can better help these people in their own countries if we could cut corruption and misrule
Migrant-welcoming Sweden is descending into chaos because of the number of illegal migrants
What we are seeing is not migration but an invading army of millions that could destroy Western civilisation
Given all this, how can anyone in the West welcome what is happening? How can anyone believe we can solve the Third World's problems by bringing the Third World into the West?
How can anyone be a lefty, libtard, holier-than-thou, virtue-signalling snowflake?
Well, here is somebody much more intelligent than me explaining how to make a snowflake: