(Monday blog – still cannot move my left hand)
Hungary for freedom?
First the wonderful news – it seems that Hungarian patriot and defender of Western civilisation, Viktor Orban, has won a 3rd election victory by a landslide. How the treacherous, lefty, progressive, holier-than-thou, virtue-signalling, Izlumophiliac libtards must be choking on their eco-friendly, fairtrade cornflakes this morning. Over the last few days, even the supposedly objective TIMES has been spewing insults and bile at Orban. Yet Orban has managed to beat a concerted campaign of establishment vituperation (funded by Mr Soros?) because the Hungarians were not afraid to vote to preserve their own country.
When an invasion is NOT an 'invasion'
And now a truly worrying story of the suppression of free speech in France.
French conservative politician Nicholas Dupont-Aignan, who gave his support to anti-mass migration presidential candidate Marine Le Pen last year, has been given a suspended fine of 5,000 euros for speaking about a "migrant invasion".
Mr. Dupont-Aignan made the comments on January 17, 2017, during his own run for the French presidency before he was knocked out after the first round vote. He had said: "In 2016, the Socialists compensate for the decline in birth rate by the migratory invasion. This is now!" Le Figaro reports.
On Wednesday, a court in Paris found the conservative guilty of provocation to hatred or discrimination with a suspended 5,000 euro fine being handed down. The case was brought to the court by the International League Against Racism and Anti-Semitism (Licra) which claimed Dupont-Aignan's parliamentary immunity should not apply in the case.
Please note that the gentleman said nothing about the ethnicity or the religion of the invaders. Yet he was still found guilty of supposed 'racism'
When around 156,000 troops took part in the D Day invasion of Normandy, that was apparently an 'invasion':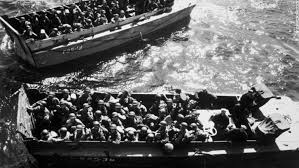 But when over a million possibly often inbred, possibly often low-IQ, possibly often violent, possibly often criminal, possibly often illiterate, possibly often unemployable Third-Worlders flood into Europe every year, according to 'French justice' (a wonderful oxymoron) that is definitely NOT an invasion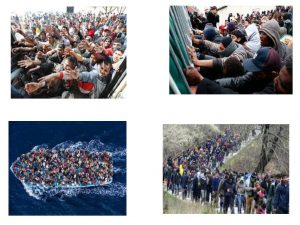 Meanwhile hundreds (thousands?) of ISIS jihadis are returning to Europe and being welcomed with open arms, free housing and lots of benefits. Yet Marine le Pen is being prosecuted in France for tweeting a photo of an ISIS beheading.
Just more 'French justice' I suppose.