(weekend blog)
Finland
As you probably know, a few people have been stabbed by a man in the Finnish city of Turku and two have died. The attacker was screaming something like "I love my snackbar" during the attack. However, the Finnish police claim that the attacker's motive is "unknown" and for the moment they're denying it was a terror attack. No doubt as usual we'll be told in a few days that the man was "known to the police" and had "psychological problems".
A tale of two boys
I'm sure you remember the story of Aylan Kurdi. He was a three year old boy whose drowned body was photographed on a beach in Greece and used by the virtue-signallers and politically-correct mainstream media to put pressure on governments to admit millions of violent, illiterate, often inbred, low-IQ, unemployable, parasitic, benefits-scrounging, West-hating refujihadis and rapemigrants. Here are two photos of Aylan Kurdi which were ruthlessly exploited by the 'rapefugees-welcome' brigade: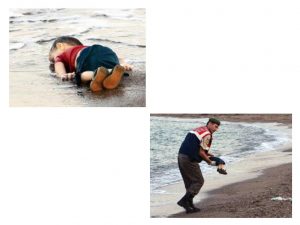 At first we were told that Aylan Kurdi and his family were Syrian refugees. But later we found out that his family had actually been living for about two years in peaceful Turkey. So, when they set off for Europe, they weren't fleeing war and persecution. They were understandably just heading for a better life in a richer country. And that's OK. But the lefties and libtards desperately tried to cover up the fact that the boy died because his father was an economic migrant, not a refugee.
Moreover, whereas with British shipwrecks it's often a case of "women and children first". With our friends from the world's greatest religion it's a case of "every man for himself and sod the women and children".
Now let's move on to the recent Barcelona attack. Here's a photo of what I believe is a young boy mowed down by the 'van of peace':
But you won't see this photo in any mainstream media. You won't see this photo broadcast around the world. You won't see the lefties and politically-correct demanding justice for this boy. Why not? Because he was killed by a bunch of refujihadis and it would be Eezlumophobic to publish this photo. Moreover, this photo  might make people understand the threat Merkel's policy of race replacement by importing millions of refujihadis poses to Western civilisation and that's something our rulers, the lefties and the libtards want to avoid at all costs.
So the photo of the Barcelona boy will never be shown by the biased mainstream media. The photo of the Barcelona boy will be ignored by the mainstream media.
Australia
Meanwhile, here's a short video from Australia. I don't know the story. But it appears that the white Australian must have upset one of his "new Australian" neighbours so they "visited" him to discuss the matter.
As I once half-heartedly enquired whether I could move to Australia and was told that I didn't qualify, I find it mildly amusing to see the kind of people the Australian Government welcomed while telling me to get lost. Enjoy: