Today snouts-in-the-trough can bring you another 'good news' story from Angela 'Mad Cow' Merkel's European migrant madhouse.
For many years fat, older, uglier Western women – particularly from Germany and Austria – have had to travel all the way to Africa or the Carribbean to get sex:
Some may even hope to find love:
Here's a map detailing the main travel routes used by these women: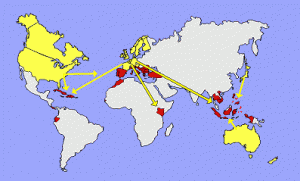 I believe that Gambia was one of the most popular destinations.
They couldn't get sex in Germany or Austria as they were too old and ugly and probably didn't smell too good and as German and Austrian 'men' (like Swedish 'men') have been emasculated by decades of lefty, feminist indoctrination.
But now things are changing. Now the real men are coming to these frustrated, sex-hungry, older women:
With a couple of million sexually-active young African and Middle-Eastern men flooding into Germany and Austria thanks to Europe's latest crazed Nazi ruler – Angela 'Mad Cow' Merkel – German and Austrian women are reportedly paying many of these newly-arrived real men for sexual gratification.
Though perhaps we shouldn't be surprised. After all, there have been several cases of British women generously volunteering to 'help' migrants in Calais mainly in order to have sex with them.
As for the German and Austrian women, I imagine they're grateful to Mad Cow Merkel. Previously they could only have sex for a few weeks each year when they were on their holidays. Now they can have sex with exotic African or Middle-Eastern men whenever they want. Plus they also save a bit money as they no longer have to pay for flights and hotels leaving them more to pay for sexual intercourse. Though this might be a disaster for the Gambian tourist industry.
And to prove my point about German women and their migrant toyboys, here's a really ugly old German woman (that no right-minded man would f**k) with one of the new arrivals into her country. They both look very happy:
So, at least some of the new arrivals are getting well-paid employment and making a useful contribution to German and Austrian society: