Our rulers claim that the latest London attack was based on a "misunderstanding of Islam".
I think I've finally understood this "misunderstanding".
The Moozerlum Holy Month is called "Ramadan". But clearly some of our peace-loving Moozerlum friends have misheard (it's easy to do) and thought the name of the Holy Month was "Ram-a-van" – get a van and ram it into as many filthy, unbeliever, decadent, British scum as possible and then, for good measure, leap out and stab a whole lot more, preferably in the face and the neck, using hunting knives with 12-inch blades.
Meanwhile our rulers tell us to "build bridges between communities, not walls". Yup, recently our bridges seem to have been quite popular with our Ram-a-vanner friends – first Westminster Bridge and now London Bridge: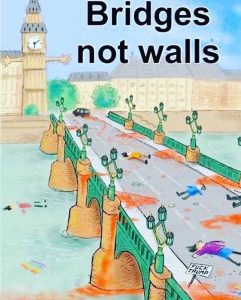 If there are any more of our Moozerlum friends out there with similar hearing problems, then we can expect quite a few more innocents to be mown down in "Ram-a-van" attacks.
The lefty libtard idiots have been incredibly quick this time to lay the blame for the attack on us British as usual. Even the Sunday Times managed to rush in an article about a "shocking" increase in supposed "Izlumophobic attacks" even before the newspaper knew any details about the latest London attack.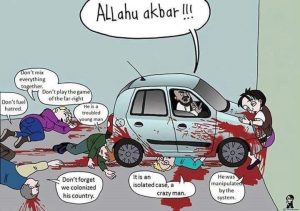 And what about the reactions of our rulers:
Theresa May – usual platitudes
Corbyn – even worse platitudes
Mainstream media – a tirade of attacks on Donald Trump for daring to criticise London's Moozerlum Mayor – the mayor who said that terror attacks were "just a normal part of living in a large city"
Everybody – No criticism at all of Britain's Moozerlum community
I suppose I could summarise the reactions of today's British rulers by paraphrasing one man who did know something about defending British values and British freedoms – Winston Churchill, "We will fight them with platitudes, we will fight them with hashtags, we will fight them with candle-lit vigils, we will fight them empty declarations of solidarity and we will always surrender, we will surrender because we are cowards, because we are afraid, because we are a disgrace, because we are betraying all those who died to preserve our once great nation".
I wonder how long it will be before the (IMHO) repulsive UK-hating Chakrabarti woman and equally repulsive (IMHO) Yasmin Alibhai-Brown will be on our TV screens screeching about "Izlumophobia" and demanding that the police who shot the three Moozerlum murderers be prosecuted for infringing their Yuman Rights by killing them rather than arresting them?
Ramabomb/Ram-a-van score so far
All us Westerners know that Izlum is a religion of peace. That's what the ruling elites keep telling us.
Unfortunately there seem to be quite a few Moozrlums who haven't understood quite how peaceful they are. Hence the appallingly high annual death toll during the Holy Month of Ramabomb/Ram-a-van.
Anyway, I suspect you're all on tenterhooks wondering how many innocents have been slaughtered by the Cult of Peace, Mayhem and Murder by Day 9 of Ramabomb/Ram-a-van 2017.
So, here is the latest score achieved by those who have read and memorised the Moozerlum Holy Book and who, according to such Izlumic experts as Theresa May and Jeremy Corbyn, have not understood that Izlum is "a religion of peace fully compatible with Western democratic values":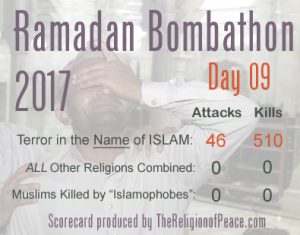 Yawn. A total of just 46 religiously-inspired attacks with only 57 people slaughtered each day. That's pathetic. It really is.
By Day 9 of 2016, which was a pretty quiet year, there were a much more impressive 72 attacks killing 68 innocents a day: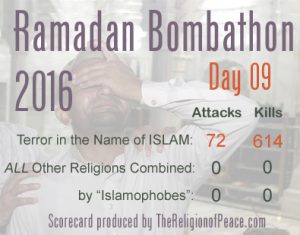 Come on chaps! You're going to have to put in a bit more effort if you're going to beat last year's score.
So, let's hear you all scream your support for the religion of peace:
Ramabomb! Ram-a-van! Ramabomb! Ram-a-van! Ramabomb! Ram-a-van!
(for new readers you can add or read comments by clicking on the title)