So, the Religion of Peace's holy month of Ramabomb has just started.
I've now found some more reliable figures of the death toll in religiously-inspired attacks in the Holy Month: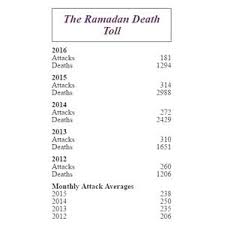 Oh dear. Last year seems to have been a bit of a slow one with 'only' 1,295 deaths – a mere 43 a day. That's far below 2015's much more impressive 99 a day.
What's going on? Why so low? Who knows?
So, I bet you're wondering how our Religion of Peace, Mayhem and Murder friends are doing so far this year. Well, it's early days yet. But the massacre of 28 Egyptian Christians yesterday (the first day of Ramabomb) has got the Holy Month off to a respectable, though far from record, start.
But Ramabomb supporters don't be dismayed. There seems to be some kind of Jihadi uprising in the Philippines:
ISIS-linked militants reportedly captured nine Christians, tied their hands together and shot them dead in a city in the Philippines.
The Maute group forced the civilians off their truck at a roadside checkpoint in Marawi City on Wednesday and murdered them after they were identified as Christian, local media reported.
Harrowing images show the group lying dead face-down in the grass, amid reports that villagers are afraid to move the bodies because terrorists are still in the area.
One policeman was similarly caught at a checkpoint set up by the militants and beheaded on Wednesday, President Rodrigo Duterte said.
It comes as 100 US-trained special forces aboard helicopters and armoured tanks battled to retake the besieged southern city from rampaging jihadis.
Five soldiers and one policemen died in the clashes, while 13 gunmen were killed, according to the military.
'We're confronting maybe 30 to 40 remaining from the local terrorist group,' said Jo-Ar Herrera, a spokesman for the military's First Infantry Regiment
So we can expect the score from the first day of Ramabomb to rise significantly one we get the results from the Philippines team.
Plus the so-called Izlumic State has called for "all out war" against the West during the Holy Month so that should encourage the lads to try harder.
Anyway, with only one day of Ramabomb gone and another 29 still to go, we can only hope that our Religion of Love friends up their game and increase their daily scoring rate otherwise 2017 is going to be a bit of a damp squib just like 2016.
C'mon lads! You can do it!
Let's Ramabomb the hell out of everyone!
Altogether now, let's give the team some support. Scream after me:
Ramabomb! Ramabomb! Ramabomb! Ramabomb! Ramabomb! Ramabomb!
(Message to PC Plod – this is NOT incitement to violence. It's my attempt at satire! Satire? Oh you've never heard of it? Well Plod, try to find a big book called a 'Dictionary' then you can look it up)
By the way, the following scenes have nothing to do with Izlum which is a religion of peace. They are due to fanatics hijacking Izlum, which is a religion of peace.
So, please repeat after me "Izlum is a religion of peace".
If you chant this 100 times a day, you might soon start believing it!