Supposed "fake news" is a hot topic at the moment for the mainstream media. And today Facebook has apparently placed expensive full-page ads in the main newspapers advising us how to spot what they call "false news".
But what is "fake news" or "false news"? And who is lying to us? The alternative (usually Internet-based) news sites like the wonderful Breitbart and my own humble efforts. Or the mainstream media?
For decades we have been fed a torrent of lies by the mainstream media.
For example, multi-culturalism has been shoved down our throats. And who could argue with the proposition that different cultures could live happily alongside each other? But we didn't get multi-culturalism. Instead Islamification was forced on us:
They told us that ships from the EU and charities were "rescuing" drowning migrants. But they weren't "rescuing" anyone. They were just sitting just outside Libyan territorial waters providing a free ferry service to Europe to anyone who wanted to come: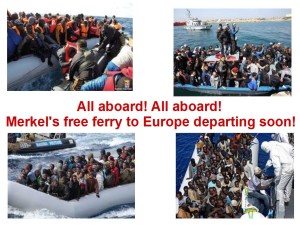 And around six thousand African benefits-scrounging migrants availed themselves of our free ferry service last weekend alone.
Then they told us we had to accept up to two thousand helpless "child refugees" from the appropriately-named Jungle in Calais. But, of course, most weren't "child refugees", they were fully grown adult migrants of military age: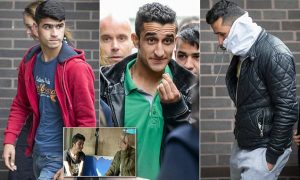 And the more who arrive, the higher the rape and other crime figures will rise.
And now we hear that it's good news that the EU's and Angela 'Mad Cow' Merkel's candidate for the French presidential elections has soundly beaten a supposedly right-wing quasi-fascist. But what the mainstream media has been desperately failing to report is the extraordinary level of migrant violence across Paris.
Oh, and when Merkel's new French poodle, banker Macron, walked on stage at his victory rally  last night, they played the EU anthem (Beethoven's Ode to Joy) rather than the French national anthem, the Marseillaise. So, we're already beginning to see where europhiliac Macron's real loyalties lie – and they're not with his country.
Anyway, in case you were considering a trip to the French capital, perhaps the scenes in the video below (only available on the Internet and not reported in the mainstream media) will make you reconsider?
I agree with Facebook. There's plenty of "fake news" or "false news" out there. But most of it comes from the BBC and Channel 4 and the main newspapers. Increasingly the Internet is the only place we can find out what's really going on. And that's why our rulers in London and Brussels and Berlin are urgently pressuring the main Internet companies with threats of fines and even criminal charges to censor what they publish. If this carries on, soon the only news we'll have will be officially-sanctioned, mainstream media fake news.