Here's a world map you have probably never seen.
It purports to show the average IQ of different countries and thus regions of the world: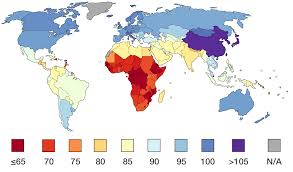 Of course, if you dare mention research like this you'll immediately be howled down by the progressive, we-know-best, immigration-enriches-us, holier-than-thou libtards. And if you have a job and dare to mention this research, you'll soon find that you don't and you'll be branded a pariah.
So, handle these results with care!
What does the map tell us?
1. African countries seem to have the lowest average IQ levels at around 65 to 70
2. Then come our friends from the Middle East's favourite religion plus Muslim Pakistan and Bangladesh, mostly around the 80 mark
3. Most of the inhabitants of dysfunctional, corruption-ridden, failing South American countries are also a few sandwiches short of a picnic
4. European countries, North America, Australia and Russia come in at 95 to 100
5. At the top are China and some other Asian countries – Singapore, Taiwan, South Korea at slightly over 100
The results are taken (I think) from a book or research report titled "IQ and Inequality" which established a clear correlation between a country's average IQ level and its wealth.
I imagine you could also establish that there is an absolutely clear correlation between a country's average IQ level and violence – the higher the national IQ, the less likely that its citizens would spend most of their time trying to slaughter each other.
I rather suspect that the map above would be anything but a surprise to most of my readers. Though I understand that the results are an anathema to the ruling elites and the politically-correct mainstream media.
Here's a link to the table of results https://iq-research.info/en/page/average-iq-by-country
Obviously it would be "waaaccccciiiiisssssttttt" for me to make any comment on the results.
So I'll leave it to my readers – (average IQ of around 100, I hope) – to do their own interpretation.
What about your IQ?
There are plenty of online IQ tests. Or if you go to the link above, you can also do a 45-question IQ test to find out which country best represents your IQ level.
Warning: the questions get increasingly difficult and the last 10 to 15 questions are rather challenging.