Earth has not anything to show more fair:
Dull would he be of soul who could pass by
A sight so touching in its majesty:
This City now doth, like a garment, wear
The beauty of the morning; silent, bare,
Ships, towers, domes, theatres and temples lie
Open unto the fields, and to the sky;
All bright and glittering in the smokeless air.
Never did sun more beautifully steep
In his first splendor, valley, rock, or hill;
Ne'er saw I, never felt, a calm so deep!
The river glideth at his own sweet will:
Dear God! The very houses seem asleep;
And all that mighty heart is lying still!
(William Wordsworth)
Yesterday I had the misfortune to visit London. As there were two of us going and the train was too expensive, I decided to drive. After all, I would get to London after the morning rush hour and leave before the evening rush hour. So, what could go wrong?
My average speed for the 240 mile journey (90% of it on motorways) was a stunning 34 mph.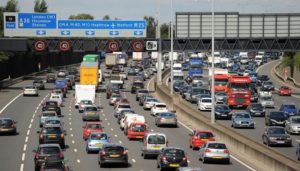 But why? Because there is no rush hour in London any more. London is so overcrowded that the 'rush hour' now lasts from about 07.00h to about 20.00h and the M25 looks more like a car park than a ring road.
In the last 15 years of uncontrolled open doors immigration, over 7,500,000 migrants have moved to Britain. About half are coming from the EU and most of those will work. The other 3,750,000 are violent, intolerant, inbred, illiterate, unemployable subhumans who are coming to destroy our health system and schools, ravage our housing stock and bankrupt our benefits system.
A large number of these new arrivals have settled in or near London: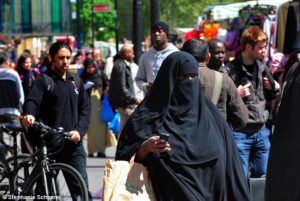 Here is a list of the world's ten largest cities. Most are filthy, Third-World cesspits. London 'proudly' comes in at number 8:
Shanghai – 24356,000
Karachi – 23,500,000
Beijing – 21,516,000
Delhi – 16,350,000
Lagos – 16,060,000
Tjanjin – 15,200,000
Istanbul – 14,160,000
London – 13,700,000
Tokyo – 13,513,000
Mumbai – 12,440,000
In addition to reaching London, I had to travel into the City. On the way to my meeting, I walked most of the way across town. But even that wasn't so simple – crowds, crowds and more crowds: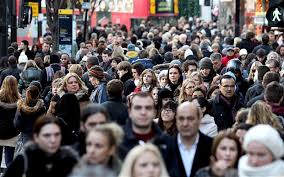 On the way back, I took the tube. One tube line was stopped due to a security scare. Another hardly had any trains due to a signalling failure. And the crowds on the remaining trains were beyond belief: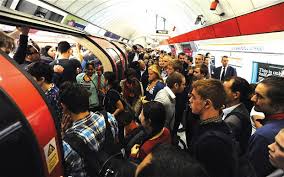 London is falling apart – every daylight hour is 'rush hour', the roads are congested, the streets are overcrowded, the infrastructure is struggling and quality of life is declining.
The latest statistics show that only one in every three supposed 'Londoners' was born in Britain. Two thirds of London's population are migrants.
I'll leave it up to you to decide whether what our rulers have done to our once beautiful capital city is progress or the opposite.
Still, at least it's fairly safe to walk around the centre of London, unlike Paris where migrant and gypsy gangs of pickpockets, muggers and rapists freely roam the streets.