Last night I appeared (rather briefly) in a BBC2 documentary – WHO'S SPENDING BRITAIN'S BILLIONS?
I made two appearances:
one was to explain how management consultants 'land and expand' in any organisation, especially the useless, incompetently-managed British public sector. The consultants get their foot in the door by offering to do a cheapish study on organisational effectiveness. Then they use that to con hopeless managers into buying massive, often multi-million-pound supposed 'improvement programmes'
the second bit I did was to warn about management consultants' latest and possibly greatest ever sales trick – selling idiotic managers the idea that they need to do a "Transformation Programme"
Go into any public-sector organisation or any council and you're almost guaranteed to find that they have used or are using management consultants to run their "Transformation Programme".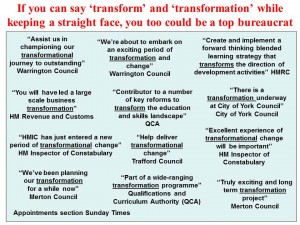 I have a confession to make. In the 1990s, I worked at the management consultancy Gemini Consulting which was part of the voracious CapGemini group
At the time, Gemini Consulting was getting slaughtered in the marketplace by the big accountancies' growing consultancy businesses. The problem was that the accountancies could deliver the trendy product of that time – BPR (Business Process Reengineering) – for often less than £5,000 per consultant per week. This was much cheaper than the £7,000 plus expenses per consultant per week that we at Gemini charged. The accountancies could undercut Gemini's prices because they used armies of 'billing fodder' (cheap, inexperienced consultants) while Gemini tended to have more experienced and thus more highly-paid staff.
In order to fight back against the lower-priced competition, Gemini tried to find a smart new way of dressing up its services to make them look different and more valuable than those of our competitors. After a few real turkeys, they came up with the idea of 'Business Transformation'. Gemini's big chiefs even wrote a book called Transforming the Organization and, if I remember correctly, Gemini tried unsuccessfully to trade-mark the phrase 'Business Transformation' as a product only its consultants could deliver.
Reviewing the book at the time, the respected magazine The Economist wrote with great prescience that a true transformation 'would employ an army of consultants for a century – and cause endless disruption'.
Most organisations can be improved, but very few need to be 'transformed'. The great thing about 'transformation' was that it enabled us consultants to sell massive consulting contracts where we lucratively, and possibly sometimes unnecessarily, totally restructured our clients' organisations and also put in huge new computer systems, again lucratively but perhaps unnecessarily.
And now, to British taxpayers' horrifically large cost, most of our public sector have caught the transformation bug.
The only thing that transformation has ever transformed are the ever healthier bank balances of the multimillionaire consultants who fool politicians, bureaucrats and business bosses into launching their massive, deluded "Transformation Programmes".
I know. I used to sell "Transformation".
Oh, and here's a short video I made explaining just a few management consultants' tricks. It's based around a song sung by McKinsey management consultants at one of their Christmas parties: