In the run-up to the EU In/Out Referendum the parasitical elites repeatedly warned us that an 'Out' vote would be a disaster for Britain's economy. And in the first 48 hours after the result was known, supposed economics experts from the Brussels Broadcasting Corporation gleefully blethered on about a collapse in the stock market and in the value of the pound as they chastised us for not voting the way we were told.
Moreover, in the immediate aftermath of the 'Leave' vote Merkel's glove puppet Europhiliac Dutch premier Mark Rutte gloatingly claimed Britain has "collapsed politically, monetarily, constitutionally and economically".
But the world didn't end. And as for Britain's stock market – well after a wobble , it's in the best of health: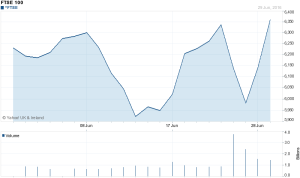 It shot up in the days before the Referendum on the expectation of a Remain vote, fell after the Brexit result was announced and is now rocketing upwards again. In fact, the FTSE100 is now higher than it was one month ago.
Ooops!!! The Remainians were wrong!! The world didn't end!!!
Well, at least, not in Britain. But over in that wonderful economic powerhouse, Europe, things are not quite so rosy.
How about Germany? The picture's not quite so happy there. The Dax is starting to go up, but is well below the level of one month ago: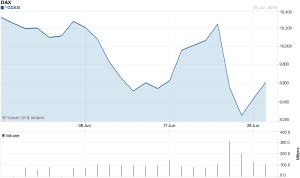 Or France? Similar losses to Germany, I'm afraid. The Cac is starting to go up, but is still well below the level of one month ago: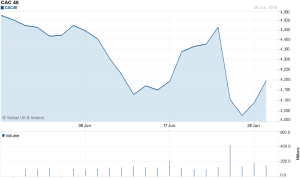 And Italy? Let's not go there. Italy's in the middle of a massive £40bn banking crisis.
And Greece, Portugal, Spain etc – total economic disasters. Thank goodness it won't be us having to bail them out. We can now leave that to Germany and Mark Rutte's Holland – about the only countries in the ghastly Eurozone which are still solvent. Ha-ha-ha-ha-ha!
As for the value of the pound. That's fallen making British exports more competitive and increasing the value of many of Britain's largest companies' foreign earnings. But you won't hear these 'good news' stories from the biased Brussels Broadcasting Corporation
All in all, the last few days have been truly wonderful for Britain. But nobody in the Establishment will dare admit this.