How does failed US president Obama keep a straight face when ordering the British public to vote to remain in the EU?
The US is part of NAFTA  – the North American Free Trade Agreement. This was signed by Canada, Mexico and the United States creating a trilateral trade bloc in North America. NAFTA came into force on January 1st 1994 and superseded the Canada-United States Free Trade Agreement
So, NAFTA is a kind of North American Common Market just like we used to have in Europe before the political elites changed the European Common Market into their grand political project – the European Union.
But on signing NAFTA, did the USA allow Canadian and Mexican politicians and bureaucrats to run their country? Not as far as I know. Yet the lowlife, self-serving lying Obama insists that Britain should give up control of its borders, its lawmaking, its employment and social policies and its independence and submit to German control.
Obama's hypocrisy is truly breathtaking. How does he keep a straight face? He must have had acting lessons.
Hopefully, the British people will be smart enough to vote for Brexit and, in the process, tell Obama to take a flying f**k at himself.
Once again we see that the EU referendum really is a battle of the elites against the people. We must not let the elites win!
Vote Leave!
America's 'great black hope' was hopeless
As for Obama's two terms as US president, what has he achieved? Chaos in Libya and Syria? The rise of the Islamic State? Letting hundreds of thousands of M*sl*m 'refugees' into the US while keeping out truly persecuted Christian genuine refugees? Making the US rich richer and the poor poorer?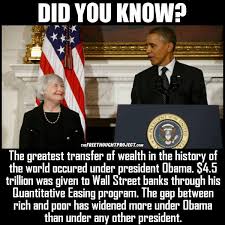 Under Obama the bankers ran off with hundreds of billions of borrowed money that ordinary taxpayers will have to pay back while ordinary Americans saw their incomes stagnate and their standard of living fall:

Obama is lucky he is blackish. That makes people afraid to criticise him as they fear being accused of being "waaaccciiiisssstt". After all, any time anyone dares criticise him, Obama is quick to play the 'race card'.
Go home Obama. You betrayed all those who voted for you and now you're trying to betray Britain and frighten us into accepting German rule.
You blew it Obama. Time to get out of our lives and get on the lecture circuit to earn millions while also getting millions more working for the bankers who put you into power and have controlled  everything you did: