Here's a lovely photo from that popular Syrian tourist hotspot Raqqa. Apparently it's of a 15-year-old boy joining the "Raqqa Flying Club" – being flung off a high building and then being stoned into a bloody unrecognisable pulp by a jeering mob urged on by some bearded maniacs (sorry, I meant 'respected M*sl*m clerics'). The boy's crime? Allegedly he was having a homosexual relationship with an ISIL military commander. But most likely he was being raped by the commander.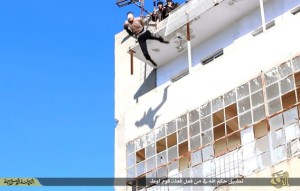 But, of course, in Sharia Law being raped is a crime which is almost always punished by death. If a female is raped, that's adultery and if a male is raped, that's homosexuality. For females death is usually by stoning. Apparently medium-sized stones are recommended so the head doesn't get crushed too quickly. For males, first they join their local flying club before being stoned. All pretty civilised stuff.
Do you remember, just a few years ago, just before the Sochi Winter Olympics in Russia, the Russian Government passed a law making it illegal to promote homosexuality to children? Do you remember Stephen "Lard-Arse" Fry bellowing his outrage at this supposed 'oppression' of back-entry Mandelsonians like himself? I think Stephen Fry even demanded that Britain should boycott the Winter Olympics. (Actually I don't imagine anyone would have noticed if we didn't turn up as we tend not to be too great at winter sports.) However, Fatty Fry and his limp-wristed leftie mates, bursting with self-righteous, holier-than-thou indignation would be quite happy for Britain's few Winter Olympians to throw away four years' training just so the lefties could show off their well-polished liberal consciences.
Well, Fatty. What do you think about ISIL chucking recidivist botty-botherers like yourself and suspected botty-botherers off high buildings? Then stoning what's left of them? Surely that's slightly worse than the supposed 'oppression' of serial shirtlifters in Russia? But strangely, there is deafening silence from that great pile of sweaty buggery (sorry, I meant 'great national institution') – Stephen Fry – and his limp-wristed, *sl*mophiliac leftie mates. No outrage against ISIL. No demands for action against ISIL. Strange isn't it?
I think what we're seeing is the usual hypocrisy and selectiveness of the British Britain-hating liberal lefties. M*sl*m female genital mutilation? Not a peep of protest from the lefties or the feminists. M*sl*ms crashing our NHS and care system with congenital idiots born from first-cousin marriages? Silence from the lefties. M*sl*ms crucifying Christians and burning churches in M*sl*m countries? The lefties look the other way and bleat about how we need to allow more M*sl*ms into Britain. M*sl*ms gang-raping, gang-sodomising and gang-torturing underage white girls? Desperate attempts by the lefties to keep the story out of the press so as not to offend the so-easily-offended M*sl*m community.
Imagine the howls of outrage from the lefties if Israel ever did any of these things. In fact, I think there's currently a boycott on Israeli universities and a refusal from our universities to invite any Israeli academics to Britain, whereas every bearded Jew-hating maniac from *sl*m is welcomed with open arms by the holier-than-thou lefties who control most of our universities.
As the son of an immigrant father, who hugely admired Britain and was immensely grateful for the opportunities Britain gave him, I fail to understand how those who loathe Britain, British history and British values have come to dominate our society and how those who see value in British achievements are derided as 'little Englanders', 'waaaaccciiisssttts' and 'bigots'.
Why are we allowing ourselves to be led to collective suicide by the parasitic, liberal leftie establishment? I don't get it.