I realise that the 'big issue' facing all of us is the M*sl*m migrant invasion of Europe and the fact that most European cities will be majority M*sl*m withing 20-30 years. But I'd like to use today's blog to get back to more familiar snouts-in-the-trough material.
I expect that since the Brown and Balls financial crash in 2007/8, most readers have seen fairly drastic cuts in their council services as budgets are slashed and tens of thousands of low-paid council workers have been sacked to save money.
But in the upper echelons of our councils, they clearly don't know how to spell the word "austerity" as council fatcats keep increasing their own pay and perks oblivious to the need to save money when it comes to their own comfort.
In 2007, just before the financial collapse and the recession, there were in the region of 600 people in local councils being paid £100,000 a year or more, 64 on £150,000 a year or more, 5 on £200,000 a year or above and none earning anything near £250,000.
Yet by 2013, after years of supposed 'we're all in this together' austerity, there were a more impressive 2,181 on £100,000 or more, 542 on £150,000 a year or more and 34 on £250,000 a year or above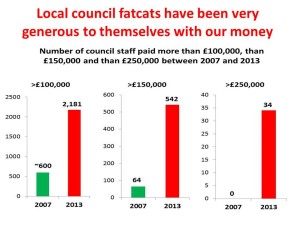 Over the same period, the average remuneration package of the ten highest-paid council executives jumped from about £203,000 a year to above £270,000 a year – a rise of 33 per cent during one of the worst recessions in British history.
Meanwhile in China
I've recently returned from a visit to China, but have also written about China in the foreign aid chapter of my book THE GREAT CHARITY SCANDAL. Over the last couple of days there has been great gloating and glee in Britain's mainstream media about China abandoning its one-child policy. Many British supposed 'experts', especially the useless politically-correct BBC, have claimed "China's controversial one-child policy has been a failure".
Um, well actually no. China's one-child policy has probably helped drive one of the greatest positive achievements in human history. About forty years ago, China's GDP per capita was below that of most African countries. By 2014, China's gdp per capita was seven times that of most of Africa.
Why? Because the Chinese Government realised what politically-correct  British journalists don't seem to understand – that a country can only develop if its economy grows faster than its population. By slowing population growth while boosting the economy, China has managed to pull around 700 million people out of poverty in just forty years without receiving any foreign aid at all. But now China has developed to such an extent that the one-child policy is no longer necessary.
Now, let's compare that with useless, poverty-stricken hell-hole Africa. In the same time as China has pulled 700 million out of poverty, Africa has managed to plunge around 700 million more into poverty. You can see them every day arriving on Europe's shores.
So, why has Africa been such a catastrophic failure? Of course, there's massive corruption and the utter incompetence of most African rulers. But there's also one other important factor. Here's the population growth for just two of Africa's mostly basket-case countries – Ethiopia and Sudan:
Anyone but an idiot, or an overpaid BBC journalist, can see that no country can possibly develop when its population growth far outstrips its economic growth.
Oh, and by the way, Ethiopia receives around $3.4bn in aid every year while Sudan gets about $1bn. And what have we got to show for 50 years and hundreds of billions of aid? More starving children, more water shortages, more conflict, more misery.
China's one-child policy has been a fantastic success. It's a pity that Africans are too stupid to do what the Chinese have done.