Here's the fragrant Camila Batmanghelidjh: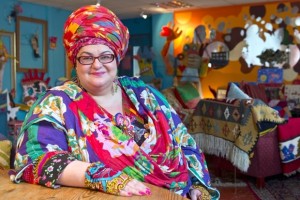 She's the founder of and will soon cease to be the chief executive of a charity called Kids Company:
You'll probably have seen her being interviewed quite often on TV as she seems to get quite a deal of publicity for herself and her good works
She looks happy and well fed. But then she can afford to be on her quite generous salary. Unlike many other well-known charities, Kids Company refuses to reveal Ms Batmanghelidjh's salary. But she is the chief executive and we know that the highest paid employee at Kids Company was paid somewhere between £90,000 and £100,000. So it would be reasonable to expect that the highest paid person was the chief executive.
Of course, many people will think that £90,000 to £100,000 is not huge for someone running a large organisation like Kids Company. Kids Company raises and spends about £22m a year and has about 495 employees. In comparison Save the Children pays its boss between £130,000 and £140,000, has a turnover of £308m and 3,551 employees, whilst the NSPCC also pays its big chief between £130,000 and £140,000, has a turnover of £125m and 1,810 employees. So, Camila is getting a reasonable wad for her comparatively small charity.
But do we need Kids Company at all? There are about 1,948 registered charities for helping children and another 309 helping kids. That's 2,257 children's charities. Of course, many of these children's charities will be helping children in Third World hell-holes. But to my small brain, it seems almost inconceivable that not a single one of these 2,257 children's charities is doing pretty much the same thing as Kids Company:
You'd be able to save an awful lot of money in salaries, office costs and suchlike if the bountiful Camila was employed by another charity rather than running her own. Though, of course, if the lovely and always exquisitively-dressed Camila was merely toiling away for some other children's charity, she wouldn't have got all the media exposure, honours and money that having your own personal charity can bring:
But only a real cynic would ever suggest that Camila's charity was as much about the promotion, financial remuneration and self-aggrandizement of the weighty Camila as it was about actually helping children in need.
Anyway, Camila has a little problem. The Government, which regularly gives Kids Company about £3m to £4m a year has threatened to withhold this money unless the Camila steps down as chief executive. Apparently the Government is concerned over 'governance issues' – I think that means financial mismanagement.
Depending on which news source you use, Camila has either refused to be bullied into resignation or else has resigned as it had always been her plan to leave after running the charity for 20 years. Moreover, Camila claims that there has been no financial mismanagement and that the real reason the Government wants her out is because of her criticism of the Government's failures to protect children and prosecute establishment figures, such as the Great Escaper Lord Janner, accused of child abuse.
So, what will Big Camila do now if she loses her £90,000 to £100,000 boondoggle? Well don't worry. Camila will now be taking up a new "advocacy and clinical role" so we should all keep giving to Kids Company to help feed the Fat Lady of charity.