As readers will know, the British navy, while cutting its strength from 37,500 to 29,000 in order to save money, has been busy making people traffickers rich by providing free ferry services for any African or Arab who feels like moving to Europe to live off crime and/or benefits.
So far this year at least 60,000 migrants have decided that, having destroyed their own countries through stupidity, religious intolerance, corruption, laziness and incompetence, they'd rather like to move to Europe and do to our countries what they've done to their own blighted, hell-hole homelands: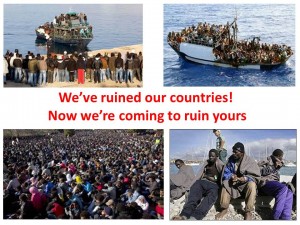 And, of course, the politically correct and self-appointed, self-righteous opinion leaders tell us that it's our humanitarian duty to help the African and Arab swarms. But how many can we cope with?
Here's a chart of the change in population of Europe and Africa over the last 65 years:
Am I really the only person who can see a small problem? Every year another few hundred thousand babies are born in wealthy Europe. Every year around another 30 million babies are born in stinking, excrement-covered, diseased, poverty-stricken Africa.
Every 25 years, the population of Europe goes up by around 3%. Every 25 years the population of Africa doubles.
About 600,000 babies are born in hell-hole Africa every week. More babies are born in Africa each week than are born in Europe each year.
The massive, explosive, uncontrolled population growth in impoverished Africa is something the charities never mention when they show their sad pictures of starving black babies. And no politician or journalist dares talk about this as they'd immediately be branded a "waaaacccciiisssstt" and lose their well-paid jobs.
What Africa needs is population control, not aid.
So, how many Africans are we going to bring to Europe each year? One million? Five million? Ten million? I doubt any of our rulers would like to answer that question.
Looking at Africa's population growth, if you think 10,000 Africans and Arabs moving to Europe each month seems rather a lot, then in the immortal words of Bachman Turner Overdrive "b..b…b…baby you ain't seen nothing yet, here's something you'll never forget, you just ain't been around"